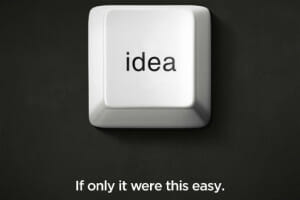 If you are looking to get a job in the advertising industry, it is important to know the difference between spec ads and other types of ads that should be found in your portfolio. Each type of advertisement has its purpose, and some companies prefer to hire advertising associates who are talented at writing powerful speculative ads because these set them apart from other talent in the industry. If you are not sure what separates a speculative ad from the rest and why companies want to see this in your portfolio no matter how much experience you have, read on and find out what you need to know.
What Exactly Is a Spec Ad?
If you are a recent graduate or even if you have years of experience in the advertising industry, you will need to have at least a couple speculative ads in your portfolio. This is true even if you do not have any published ads to include. Basically speaking, a spec ad is an advertisement that you have written yourself but that has not been published. You were not hired by the company to write the ad, you were not a part of the marketing campaign, you have no affiliation with the company whatsoever, but you have set aside the time to be creative and develop an original ad on a brand or a product.
What is the Purpose of a Speculative Ad?
It is easy to question why you would sit down and create an ad for a company that already has their professional ad published in a magazine. The primary reason that you would rewrite an ad that is already published and put it in your portfolio is to showcase your talents. You may be very good at catchy slogans or strong with calls to action. You can use your own hard-hitting words in your ad, restructure it, and use this spec piece to help you highlight your skills while you are in an interview.
What to Do With Your Spec Ad
It can be beneficial to print the original ad and to put your rewrite of this ad in your portfolio so that the interviewer can see where your vision originated from and whether or not you kept the same general message. If you are able to do a better job that the advertisers who are getting published, you can land a position without even having published works.
Tips When Creating Your Own Spec Ad
The first step will be to look for an ad that you feel is ineffective. If it is missing something, you can rebuild it to capture the attention of the audience. Once you find the ad, you should start creating your version. Be sure to put the text "SPEC AD" on the page so that you are not deceiving. Next, you will develop an entirely new headline that grabs attention. Then you will need to write a new copy that is interesting enough to make the reader read from start to finish. End it with a call to action and you are done. You have a plain text copy that focuses on the content and not the visuals.
If your dream is to become part of an advertising team, you need to start somewhere. Not all of the best candidates have experience. If you do not have professional experience, show off your talent by simply rewriting some spec ads and you can compete with the best if you have what it takes.