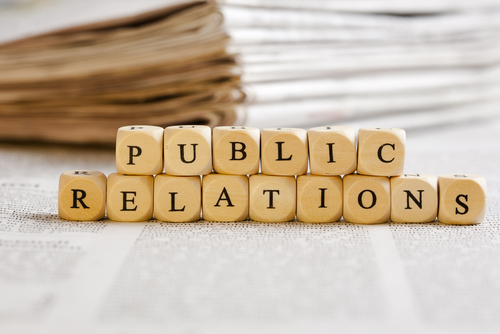 If you are interested in beginning a career in PR, and you have a goal of progressing up the ladder to become a Public Relations Manger, it is very important to find out about the management role that you are working hard to win. Public Relations managers play a vital role in an organization and are dedicated to creating a positive image for a company and then continually maintaining this image. As the person in charge of creating and maintaining corporate reputations, the PR manager is a spokesperson who needs to be able to communicate with stakeholders, clients, and even the public.
The Roles and Responsibilities of Public Relations Managers
Depending on the size of the organization, there may be public relations department that is dedicated to doing research as well as damage control in the event of a crisis. The professional that oversees the department that communicates the company's policies and manages public image is the PR manager. Aside from overseeing the department, a manager will also conduct reputation research, write and edit press releases to be published on newsworthy platforms, and identify the target audience that the press is designed to reach.
While a team may be responsible for compiling the information that is needed to construct press releases and promotional videos, when you are the PR manager for a smaller organization you may have no team at all to gather data. In this event, the workload may be smaller but you will have more responsibilities. You may be managing tasks as small as putting together Power Point presentations and as large as making the final determination of a company's logo.
As a public relations manager, you are a marketing professional whose primary role is to act as the middleman between the company's public image and the media. Whenever the media has questions, the manager will be the primary one responsible for answering these questions based on the responses that the company wants to give. Managers can also play a huge role in coordinating labor relations and facilitating conversation between management and unsatisfied employees. Everything that a PR manager does ultimately contributes to gaining positive public attention for the company.
What Skills Do You Need to Be a Public Relations Manager?
Not just anyone can jump into the field and start applying for job openings. You will need to possess inherent skills and also learned skills that can be obtained through formal training before you can reach a PR management position. Because you will be responsible for maintaining an entire company's public image, you need to be very professional, talented with communications, innovative, creative, and responsible. If you do not have strong leadership skills, this may not be the role for you. You will also need to be a good observer, listener, and researcher to ensure your job is done well.
If all of the skills that are listed, the very first step to entering the field is to earn your Bachelor's degree in Public or Business Administration. While a Bachelor's degree will get you into a field, with a competitive organization you may need a graduate degree from an accredited business school. With the right degree, the Bureau of Labor Statistics reports that you will need less than 5 years of experience to go from a PR specialist to a Public Relations Manager.
Related Resources: