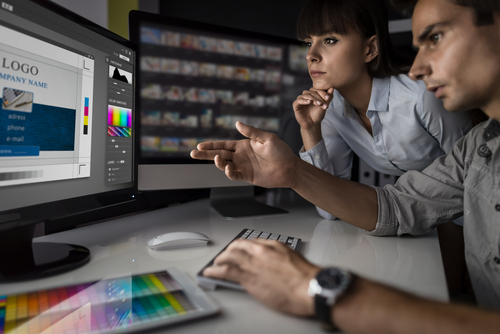 Not just anyone can make money as a graphic designer. Any creative individual can make designs — earning a living from them is a different story. To be successful, you'll need talent, technical skills, and the willingness to promote your work.
If you're serious about a career in graphic design, consider expanding your skill set to meet the needs of the market. Make sure you're proficient in marketing, print and digital best practices, common client requirements, and industry standard software. These skills make you more marketable, which means that it's easier to make a profit by selling designs or accepting custom projects.
Once you're ready for the demands of professional design work, here are some ways to make additional income with your graphic design skills:
Sell Digital Files Online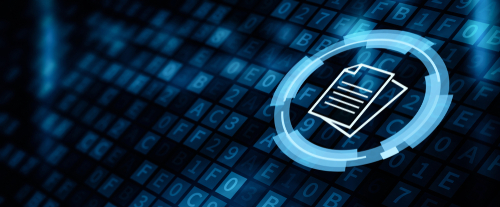 Selling digital design files is one of the easiest ways to start making money as a graphic designer. You don't need a degree or professional experience — as long as you have a computer, design software, and an internet connection, you can get started today.
Digital files have a big advantage for designers: there's no limit to the potential income. Create a design once and sell it over and over again. Plus, you don't need to worry about customer service or printing; the customer downloads the file and handles printing on their own. With this hands-off approach, you're free to invest your time in new money-making designs.
Thanks to internet marketplaces, you can sell almost any type of digital design. Create custom images, design your own font, or make textured backgrounds for other people to use in their designs.
As you're figuring out how to make money as a graphic designer, use these digital-file ideas for inspiration:
Signs – Design signs that can be used in businesses or for special events. There's a big market for wedding signs, in particular; couples need charming options for gift tables, reception tables, guestbook stations, buffet lines, parking areas, and reception venues.
Wall Art – If you're an artistic graphic designer, use your skills and creativity to make wall art. Room-specific art is an easy way to stand out: create charming themed pieces for bathrooms, laundry rooms, baby nurseries, bedrooms, or entryways. Don't be afraid to infuse each piece with your unique sense of humor or personal style.
Vector Graphics – Vector graphics are a great way to sell digital files to other graphic designers. Options include icons, banners, shapes, charts, and fancy separators. Other designers buy the files and incorporate these small elements into their own designs.
Organizational Documents – Design a wide range of documents to help individuals and organizations. For individuals, you can make bullet journal pages, workout charts, kids' chore charts, and family calendars. If you want to sell to businesses, try designing invoices, budget planner worksheets, inventory sheets, and editorial calendars. Companies also need a range of forms for orders, customer intake, liability waivers, job applications, model release, and more.
Design Templates – If you like to design logos, layouts, and marketing materials, you can sell digital templates. Create templates for logos, brochures, business cards, posters, flyers, and signs. Customers can download the editable file and customize it with their own text and images. Higher-priced templates include magazines, e-books, annual reports, whitepapers, and business proposals.
There are a few ways to sell your digital designs. The easiest option is to join an online marketplace such as Etsy or VectorStock. Once you set up a profile and upload your design files, the company promotes them for you. In return, the marketplace takes a percentage of each sale. Marketplaces are a good way to get started as a graphic designer — they have a positive reputation and a high level of trust among customers.
If you have web development skills, another option is to run your own online store. With this method, you need to set up a graphic design website and add a shopping-cart system. When a customer buys a file, you get 100 percent of the profits. People and companies will buy rights to use the file, and you can make a passive income for years after you've designed the image. Expect to pay for web hosting, backups, shopping-cart technology, and web security. You'll also need to learn search engine optimization to ensure that customers can find the website through a Google search.
Whether you sell designs through a marketplace, a website, or both, self-promotion can help customers find you. You might run an Instagram account to build a following or direct shoppers to your store with an active Pinterest profile. Other options include paid ads, content marketing, influencer marketing, YouTube channels, and media coverage. By taking an active approach, you don't need to rely solely on search results or marketplace promotions.
Take on Projects as a Freelancer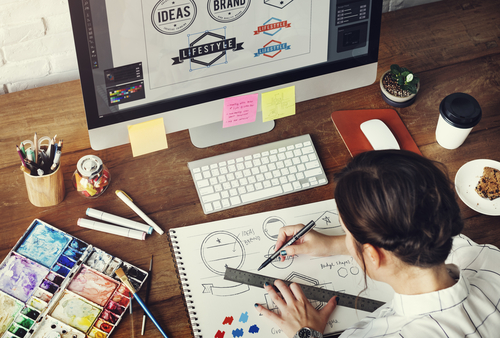 Many graphic designers work as freelancers, which means that they make designs on a contract basis. Businesses often use freelancers when they don't have the budget or workload to justify an in-house designer. Since you're not getting benefits, equipment, and office space, you can charge a higher hourly rate than you would as a full-time employee.
Finding clients is one of the most difficult things about being a freelance graphic designer. There are plenty of clients who need a designer to create a logo, an ad, or art for their web page — you just have to connect with them.
One way to get regular work by promoting your design portfolio is to sign up for a freelancing website. You can show off your talents and get matched to clients who are just right for you. Since the website provides the platform and the connection, they often take a percentage of your income.
Some of the popular freelancing sites include oDesk, Elance, Freelancer, Microlancer, PeoplePerHour, and 48HoursLogo.
On the best freelance websites, you can add some of your past designs, set your own rates, and request reviews from past clients. Any time you use a freelance marketplace, it's important to fill out your profile completely. Include your education, past work samples, and industry experience. The more information you provide, the easier it is for clients to find you.
It's important to note that competition is fierce on these platforms, and many international graphic designers work for rock-bottom prices. It's possible to earn a decent living, but it can take time to get there.
To succeed, you may need to take on small projects to start. Before setting your rates, take a look at your competitors. Examine the quality of their work, their average prices, and the types of jobs they receive. This can give you a baseline idea for what to charge. In the beginning, you may need to work for less than your ideal hourly rate; as you build a bigger portfolio and earn positive client reviews, you can raise prices.
Online marketplaces are just one way to bring in freelance graphic design projects. Some other ways include:
Portfolio Website – Build a website and establish credibility as a designer. Your site should include a portfolio of your best work, a resume, and contact information. To help the site show up in search results, you can create individual case studies with text and images. Landing pages are also helpful — these are web pages optimized around a specific keyword that clients might search when looking for your services.
The specific landing pages you use depend on your needs. If you want to work with local clients, create pages for location-based searches: "graphic designer in Los Angeles" or "graphic user interface designer in New York City". Other landing pages can focus on your unique skills and expertise; examples include website graphic design, technical manual design, Pinterest pin design, and performing arts program design.
Online Profiles – When you're figuring out how to make money as a graphic designer, it's important to build an online presence. If you're interested in corporate clients, set up a complete LinkedIn profile. Many companies search for freelancers using the LinkedIn search, so make sure to add relevant keywords like "graphic design", "annual report design", and "trade show design".
If you want to reach individuals such as bloggers, website developers, and sole proprietorships, social media can be a great tool. Image-heavy platforms like Instagram make it easy to show off your work. Post your best work, and make sure to add hashtags such as "#graphicdesigner", "#weddinginvitedesign", or "#socialmediadesigner".
Cold Visits – When you're getting started, a local approach is a great way to get new graphic design clients. Gather print samples of your best work and create a promotional packet. Then, visit all of the small businesses in your area — introduce yourself, mention that you're a new graphic design provider, and drop off your samples. This personal touch appeals to business owners who prefer face-to-face interaction and local spending. By building a relationship, you'll also gain a competitive advantage over designers who stay in the online space.
If you're not ready for in-person visits, you can also try cold emails. Gather the email addresses of local business owners and send an introductory message with a link to your online portfolio. The next time they need graphic design work, your name will be top of mind.
Earn a Degree and Get Hired by a Design Company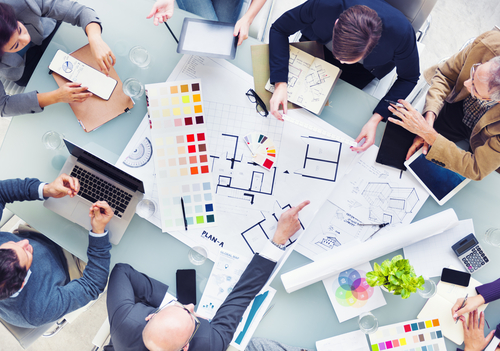 You can make money on the side as a designer, but you can also earn a living as a designer with a design firm or a corporation. These full-time jobs have more demanding requirements — most employers that are hiring a designer in-house are looking for someone who has a large portfolio or a relevant degree.
If you don't have experience designing on a professional level, completing a formal degree program can help you get a foot in the door. In fact, many corporations only hire candidates with four-year college degrees. That's because a degree gives you a foundation in the technical, practical, and creative aspects of design. Being artistic by nature is important, but to really succeed you need to have more than just a creative mind.
A graphic design training program trains you in the principles of great design, including alignment, balance, hierarchy, and proximity. These principles help you channel your creative impulses and develop the exceptional taste level that's required of professional designers. You'll also take classes in industry standard graphic design software. Since most full-time design jobs require a working knowledge of these programs, you'll graduate with a competitive advantage. Many degree programs also include coursework in digital technologies to prepare you for web design, video graphics, animation, and app design.
Keep in mind that a graphic design degree isn't the only option. You might also consider minoring in graphic design and majoring in a related area such as marketing, strategic communication, or web design. That way, you'll get an education in graphic design as well as a broader skill set that makes you more marketable after graduation.
Once you complete a certificate program or an undergraduate program, you can start applying for different types of in-house graphic design jobs. If you thrive on variety, look for graphic design jobs at marketing agencies or web design firms. Since these businesses have many different clients, you'll work on a wide range of projects. For predictability and in-depth design experience, become a full-time designer in the marketing department of a large corporation.
Are you imagining a career that includes graphic design as well as other responsibilities? Look for jobs in small businesses. In these companies, employees usually take on a variety of tasks. You'll gain experience in design, layout, advertising, web development, photography, and more. This type of job is demanding, but it can be a great stepping stone to a career as a creative director, marketing manager, or design department director.
Whether you want to do graphic design as a side hustle or a full-time job, it's important to start building a portfolio now. Your portfolio is the most important tool in making a living as a graphic designer. It doesn't have to be complicated; simply gather your best design samples (or make new ones). When you publish your portfolio, it acts as a visual resume to showcase your design skills. Every time you finish a project that you are proud of, add it to your portfolio.
With skill, talent, and persistence, you can make money as a graphic designer. Start today — in a few hours, you can start selling digital designs on Etsy or bidding for freelance graphic design jobs on Upwork. If you're interested in a full-time design career, you can build out these part-time businesses or start a graphic design degree program. With the right training and marketing skills, you can make extra money on the side as a graphic designer, and spend your days doing something that you love.
Related Resources: