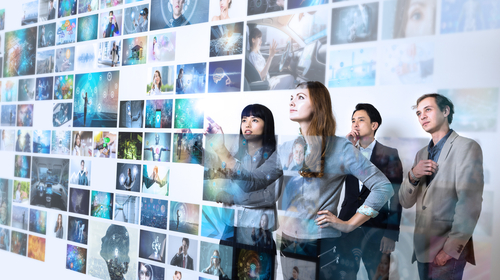 Visual communications involves the use of all types of devices in order to present information, ideas, and concepts across a variety fields. Whether looking to publish an advertisement in a magazine, design a website, or start out a career in photography, an education in a visual communication degree program can be a beneficial and necessary start.
What Communicating Visually Can Do
A well-developed visual design is able to reach out to an audience and accomplish one of several purposes. Most often, visual designs are created in order to inform and educate, persuade, or entertain. Visual communication professions are in demand because knowledge in this field combines an understanding of how to accomplish these purposes along with the computer and technology skills needed to put ideas into everything from a commercial to a new website.
Reaching an audience is dependent upon the combination of using text and graphic images appropriately and effectively. The most commonly used visual types of communication include graphs and charts, pictures, diagrams, advertisements, and printed periodicals or other publications. The key to creating effective graphics and other types of visual designs is the ability to understand the target end user's needs.
Curriculum and Courses
A curriculum focused on the visual presentation of any type of communication begins with basic courses that help students build a foundation for creating designs that are appealing and functional for an audience. In most beginning courses for these programs, fundamentals such as images, colors, and typography are reviewed. This helps students to gain an understanding of the concepts that create appealing images.
Another important component of a curriculum in visual communication is the inclusion of courses that introduce the tools with which to develop the creations. These programs might include CAD, InDesign, and other design software. Additionally, many programs include courses in marketing trends, psychology, human behavior and learning, drawing, and linguistics.
Upper level courses will likely require a more specific focus on a future career. After beginning to understand concepts such as the ways in which color affects mood, students might continue on to take courses in photography, graphic design, website usability, fashion design, industrial design, or advertising. Additional information on courses and curriculum elements of visual arts and design programs can be found at the International Graphic Arts Education Association.
Careers in Visual Communications Fields
Information is disseminated everywhere, and the industries that rely most heavily on qualified, skilled visual arts professionals include television, print publishing, and web-based organizations. Graduates with visual arts or communication credentials might pursue positions developing printed publications or advertising, working in television or film, or creating websites and web advertisements for technology companies. Some examples of careers that a graduate with a degree in visual arts or communications might pursue include creative art director, print artist, web designer, print production manager, marketing director, web developer, photographer, and industrial designer.
Creativity, critical thinking, and knowledge of everything from psychology to marketing to computers come together in careers in all types of industries to jobs where visual arts and design are highly valued. As more and more information is created for online mediums and with computer-based tools, the necessity for an in-depth understanding of visual communications continues to grow.
Related Resources: