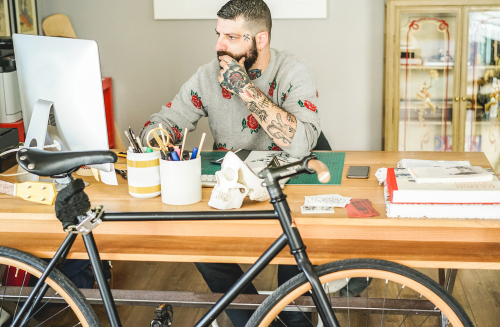 Turning your creative artistic talents into a lucrative design career is possible when you choose to become an art director. Art directors are highly trained professionals who are given authority in creating the overall layout for magazines, newspapers, films, TV shows, stage sets, books and more. Not only are art directors experts in design concepts, but they're also passionate leaders who direct the work of other designers. In this creative management role, art directors are paid handsomely with an average annual salary of $97,850, which could be equated to $47.05 per hour. Art directors stand proudly among the highest paid artists in the design world to control how the public views visual images.
Daily Duties of Art Directors
Art directors have the primary responsibility of developing the design plan and creative materials used to represent visual concepts in an eye-grabbing manner. On a typical workday, art directors may be involved in choosing among artworks, crafting new design elements, pitching ideas to clients, reviewing graphics, coordinating with other artists, developing a publication's creative style, keeping track of budgets, directing editing suites, and supervising their hired design staff. It's essential that art directors oversee the entire design process from start to finish to properly target a specific audience or business. Once a design project is completed, art directors present the finalized look for approval by their clients.
Career Options in Art Direction
Job opportunities for art directors are extremely diverse. Art directors can specialize their creative leadership in virtually any medium from product packages and video games to catalogs and periodicals. According to the Bureau of Labor Statistic, approximately 74,800 art directors are currently employed in the United States. The highest percentage, approximately 15 percent, work within advertising and public relations agencies to convey visual messages to consumers. Other art directors are working hard for book publishers, newspapers, specialized design firms, motion picture industries, manufacturing companies, software corporations, and apparel wholesalers. With experience, art directors can even be self-employed as independent consultants on visual communications projects.
Steps to Become an Art Director
Art directors have a high level position in the artistic world, so it's no surprise that the journey towards the career can be rigorous. Art directors must have at least a bachelor's degree from an accredited higher learning institution. Most employers prefer candidates who have obtained a Bachelor of Fine Arts in any art or design major. Many art directors also show their managerial ability with a Master of Fine Arts degree. It's very unlikely that you'll start your career in art direction, which means you'll have to work as a graphic designer, editor, photographer, advertising manager, or other fine artist first. Once you have a minimum of five years of work experience, you'll be more qualified for art direction.
It's predicted that the employment of art directors will only grow by three percent before 2022 to create just 2,200 new jobs due to declines in the publishing industry. Competition will be strong because art direction is a coveted role among talented artists and designers seeking promotion. That being said, you can market yourself by building an impressive portfolio and specializing in digital media for the World Wide Web. Becoming an art director isn't easy or for the faint of heart, but it pays off with a financially and intrinsically rewarding profession.
Related Resources: