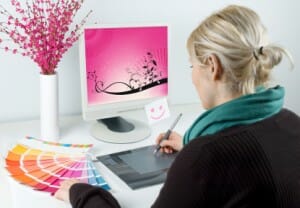 Many companies hire graphic designers, but those who are actively pursuing either a degree or job in this field might wonder exactly what types of companies are most likely to hire them and which industries are growing fast enough to provide ample job opportunities. As the economy rebounds, there are some great areas of opportunity for skilled graphic designers in both the online and print worlds, and many of these jobs are in some of the most stable, most traditional sectors of the economy. Before getting started with a job hunt, consider focusing on these key industries.
Internet and Software Development Companies
Websites are no good in the modern world if they don't offer a rich graphical experience. The good news for graphic designers is that most of those charged with writing code for a website simply aren't as talented when it comes to producing graphic and visual representations that enhance usability. Graphic design services are therefore required at firms large and small, many of which are growing at very fast rates. Internet design firms make up a significant portion of the tech sector and work for major companies like CNN, Microsoft, Apple, and numerous others. Their work has far-reaching implications online.
Advertising Firms
Most advertising firms are split between copy people, who write the text of the advertisement, and art people, who are responsible for translating text into an engaging set of images. Graphic designers get a unique opportunity here: They can actually leverage their skills and create work for both print and digital advertisements. As a result, advertising firms are some of the most popular places for new graphic designers to learn the ropes and really prove the mettle of what they learned as an undergraduate design student. With ample opportunities for growth and advancement, and higher-than-average annual salaries, this is a great area of opportunity.
Television Studios and Video Production Companies
Those flashy ads on television didn't get that way without a skilled graphic designer who figured out a way to combine moving images with static company logos, promotional text, slogans, and great colors. Though some advertising firms include this type of work in-house, many outsource it to other firms that specialize only in video production and graphic design for moving images. Those with a flexible set of skills can find themselves taking on a great deal of responsibility in this area, even as an entry-level hire with a fresh graphic design degree.
Corporate Branding and Consultation
Even the best logos eventually get old and tired, or simply look outdated and from a prior era of corporate governance. Many companies seek to refresh their logos every decade or so, since this helps them stay in line with current trends and appear to be trendy among a new group of consumers. Graphic designers are the chief way that these companies turn an old, stale logo into one that's caught up with the times and ready to usher in a new era of sustained growth. Those designers who know how to either scrap a storied brand and start anew, or know how to appreciate small changes and nuance, are a great fit for this type of role.
Today's graphic designers have more outlets than ever when it comes to expressing their creative vision. Whether it's for web design companies, advertising firms, or massive corporations, scores of companies hire graphic designers who are adaptable, highly trained, and full of creative vision for the future.