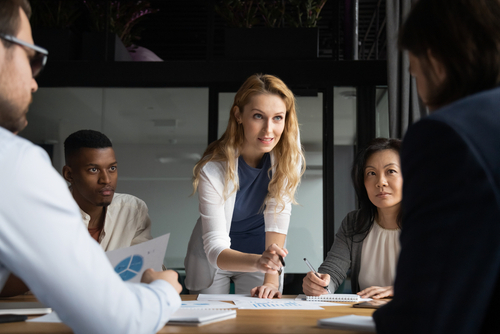 A marketing specialist is a business professional with the right training and accreditation. They usually have an academic background in sales, marketing, advertising or general business. Marketing specialists develop marketing programs and deliver materials to reach customers through various communication methods. This includes email, website, webinar, digital ad, social media and traditional print formats. Readers can search for marketing jobs here.
Basic Duties
Marketing specialists provide creative input to marketing projects and campaigns. They work with outside marketing teams, agencies and professionals to develop compelling messages and documents that are audience-specific. They may use a variety of marketing resources and research related to testimonials, white papers, case studies, press releases, product videos and how to guides. Marketing specialists create product messaging and positioning research that is used for inbound and outbound sales assets, programs and solution briefs. They sometimes partner with product or service management and business development professionals to define and review value benefits, propositions and functionality. They may work with sales, marketing, management, development and product research teams to launch new products, reintroduce existing lines and retire poor performing products. Marketing specialists may review product personas in order to understand demographic segmentations
Job Qualifications
Marketing specialists usually have a minimum of five years of marketing experience in a project, corporate, advertising or marketing environments. They may need to deeply understand niche client markets, or they may need to have a mature understanding of B2B environments and business relationships. They must be highly organized go-getters with proven project management skills. This means they will need to have excellent verbal and written communication skills.
Most companies want marketing specialists who have experience in ROI analysis, profitability reports, social media, direct marketing, financial analysis, creative development and business case justifications. They must understand business needs, strategic marketing, competitive environments, strategy development, vendor management, client relationship building and print production processes.
Job Skills & Abilities
Marketing specialists use their solid knowledge of marketing principles and best practices to manage the company's products, industry, client and competition. They develop marketing materials and programs through a variety of marketing solutions like Microsoft Office, Adobe Creative Suite, marketing automation systems and contact management platforms. Marketing specialists use their impeccable attention to detail and proven excellent communication skills to create poignant marketing messages that address customer needs. They condense potential product benefits and factual capabilities into succinct messages. Marketing specialists use their strategic planning, communication and presentation skills to benefit both internal audiences and external customers. Their ability to thrive and work in fast paced team environments is possible through their high degrees of independent thinking and self-responsibility. Their exceptional organizational skills allow them to effectively and efficiently manage multiple projects and changing priorities.
Anyone who wants to become a marketing specialist will need a degree with the right accreditation and specialization. For example, content marketing teaches students how to create consumable pieces of information that serve purposes beyond just product promotion. Search engine marketing (SEM) and search engine optimization (SEO) degrees teach students about serving ads to consumers through popular search engines. Database marketing degrees are all about creating personalized and automated messaging to consumers.
Related Resources: