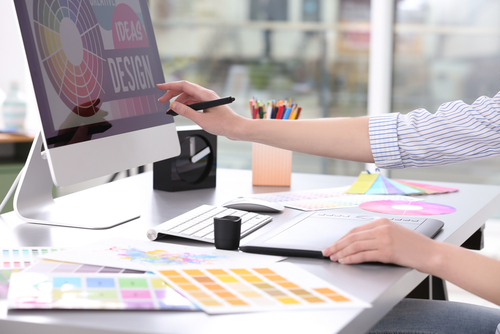 Visual communication has enjoyed a notable resurgence during the last decade. With the shift toward aesthetic languages dominating marketing efforts, graphic design salary levels have become competitive with many other vital business commodities. Typically responsible for the layout of text and images, designers use their knowledge of color theory, shape interaction, and space to convey key messages to target audiences. From billboards to commercials, applications for cell phones to magazines and everything in between, designers utilize their skills across innumerable mediums.
There are a number of schools where design theory and business practices are taught. Prestigious graphic design degree programs like the Rhode Island School of Design, with its emphasis on multiple media platforms, and Yale University School of Art, where a specialized undergraduate curriculum leads directly to graduate level specialization, equip the workforce with highly qualified graduates.
Details of Graphic Design Degree Salaries
Graphic designers generally earn a bachelor's degree, as it is the standard level of education necessary for most entry level positions. Along with this formalized education, designers often find themselves constantly extending their knowledge bases in order to keep pace with the latest trends and software enhancements. Equipped with these specialized skills, graduates have a number of career options to choose from or aspire to. Some of the most in demand graphic design careers, with their associated salaries, include:
1. Logo Designer
For many, the production of logos offers the perfect blend of typographic and image manipulation to sate creative desires. For the most part, logo or brand designers contract out their services. This independent aspect works well for those seeking freedom from corporate structure as they endeavor to create marketing and promotional items for various companies. While salaries vary with location, company size, experience, and a host of other factors, logo designers average around $45,000 a year.
2. Flash Designer
With the option to work independently or within a team of in-house creatives, flash designers utilize flash coded animations to develop innovative and trendy applications for company websites. Spanning entertainment, informational, or advertisement fields, flash development has become one of the most coveted commodities online. Because of their demand, flash designers average $55,000 per year.
3. Web Designer
Of course, graphic design plays a key role in web development as a whole. Web designers, as professionals who use computer language code to develop websites for numerous industries, must also balance technical abilities with aesthetic sensibilities. An attractive site can yield untold returns for a company and for this reason there are a number of open positions within the field. Web designers garner an average salary of $48,000 per year.
4. Art Director
For those wishing to ascend the corporate ladder of graphic design, the coveted art director position is the prize to be won. Art, or creative, directors, manage teams of diverse creatives, including photographers, artists, and designers. They ensure the quality production of design and artwork for television, publications, online projects, and more. Directors typically have years of proven experience and because of their managerial responsibilities command an average salary of $65,000.
Without a doubt, today's world of visual importance has made the opportunities for success limitless within the field of graphic design. By gaining the proper education and experience mixture, designers can develop lucrative and supremely satisfying careers.