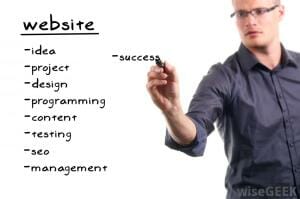 As growth in e-commerce and online retail continues to skyrocket thanks to the increased use of mobile devices, it is an excellent time to consider becoming a web developer. In fact, employment for web developers is projected to grow much faster than average occupations at the rate of 20 percent, thus creating approximately 28,500 new jobs over the next decade. Web developers will be in high demand to utilize their technological expertise for designing and creating eye-catching websites that will enhance brand recognition for organizations on the World Wide Web. If you are considering this in-demand web design career, read on for a full job description for web developers for meeting the needs of a website's audience.
What Web Developers Do
In addition to creating an appealing look for the website, web developers are responsible for handling the technical aspects of performance and capacity to ensure that all visitors receive a user-friendly viewing experience. On a typical day, web developers can be found meeting with clients to discuss their goals for the website, planning the website's appearance, creating applications, writing code, determining an ideal layout, integrating graphics and video into the web pages, monitoring traffic, and creating web content. When creating a new website, developers are given the task of helping make their clients' vision a reality to be certain the end product fits all of the client's specifications effectively.
Where Web Developers Work
According to the U.S. Bureau of Labor Statistics, there are about 141,400 jobs across America for web developers. One quarter of web developers are self-employed on a contractual basis in the role of consultant with various clients. Other web developers find employment opportunities in computer systems design, data processing, information services, finance, insurance, educational services, and corporate business industries. Web developers can also discover jobs in religious, professional, civic, non-profit, international, and government organizations to design websites in nearly any industry of today's high-tech world. Most web developers are employed on a full-time basis in normal business hours, but those who are self-employed have the most flexibility in creating a work schedule.
How to Become a Web Developer
In most cases, the minimum academic requirement for web developers is an associate's degree in web development, web design, or a closely related field. However, more technical developer positions will prefer new candidates to have at least a bachelor's degree in web design, computer science, programming, information technology, or a similar program of study. Web developers need to possess an in-depth understanding of HTML coding, computer programming languages, multimedia publishing tools, and graphic design techniques. With years of experience and a master's degree, web developers also have the option of advancing into the leadership roles of project manager, computer and information systems manager, web architect, or even chief technology officer (CTO).
Overall, web developers strive to create easy-to-navigate websites by designing, coding, and modifying the layout while taking into account a clients' targeted audience. Due to the industry's employment growth, web developers have been recognized for having the third best technology job in America by the U.S. News and World Report. If you want to join in the hard work of being a talented web developer, you will need to possess strong concentration, pay attention to detail, have customer-service skills, and be creative to design the appearance of websites.