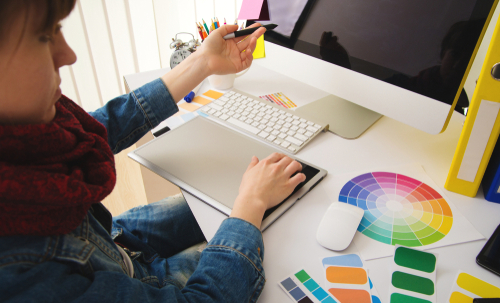 Small businesses fuel the economy, and starting a graphic design company is one way to own a business while also using your artistic and computer skills to earn money. Skilled graphic designers are in demand, and the market opportunities have never been more varied. Some designers go the traditional route, taking on corporate clients. Others take a boutique approach, working one-on-one with individuals and small businesses. If you're craving flexibility and creative freedom, it's possible to build a booming graphic design business selling digital files in online marketplaces.
No matter which path you take, you need industry knowledge to start a business as a graphic designer. As with any business venture, it's also helpful to understand the basics of starting and growing a company. If you're hardworking and talented, a graphic design business can provide the independence and autonomy that are absent in standard office jobs.
Identifying Business Intent and Purpose
Graphic design is a broad category that covers multiple focus areas; some examples are digital design, web design, and print design. When you're starting a graphics design business, you can decide to be a generalist or a specialist. From there, you can decide to target a specific industry or to accept a wide range of clients. Your personal interests and skills as a graphic designer may guide the direction of the business.
A generalist does a bit of everything; you might design business cards, billboards, or online advertisements. If you're energized by new challenges and a varied workday, this path may be a good fit. General design requires adaptability, excellent communication, and the ability to learn new technologies.
Specialized graphic designers use highly developed skills to create a specific product. Web designers are one example — as they design web page layouts, they consider user behavior, back-end coding, search engine optimization, and information hierarchy.
One of the most lucrative areas for graphic designers today is in app design for mobile phones, tablet computers, and smart TVs. The explosive growth of digital programs has meant significant opportunities for graphic designers. A newly formed business might focus upon graphics meant for viewing on certain types of devices like smartphones.
Other specialized designers might focus on items such as:
Wedding invitations
Brand identity
Typography
Digital illustration
Packaging
Print books
Since specialized graphic designers have highly developed skills in one area, they're often sought after for high-value projects. This path may be a good choice if you're dedicated to refining your skills and achieving mastery. It's a natural fit for designers with existing expertise and an exceptional talent in one area.
Once you decide whether you want to be a specialist or generalist, it's time to consider the industries that match your interests, technical skills, and graphic design style. An artistic and organic design style is often associated with fashion, wellness, home goods, and the arts. If your designs are sharp and polished, you might prefer areas such as engineering, business, finance, or education. The type of business you choose may also be influenced by the strength of a particular segment of the industry.
Online Graphic Design Businesses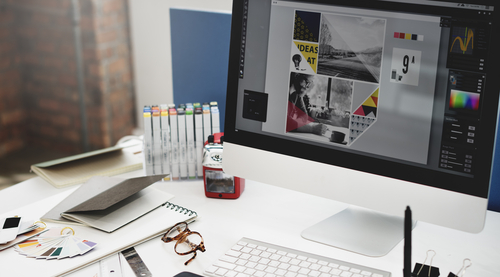 Internet marketplaces such as Etsy have opened up new possibilities for graphic designers: digital downloads. Under this business model, you create digital designs and upload them to an online marketplace. Customers purchase the file, download it, and handle the printing on their own.
Some common digital-download products are:
Wall art
Greeting card templates
Business forms
Journal and planner pages
Food and exercise logs
This type of graphic design business is relatively new, but it comes with unlimited revenue potential. As a traditional graphic designer, you're paid once for every project. Under the digital-download model, you design the file once and sell it over and over. This type of business comes with a certain level of risk— after all, there's no way to predict the number of sales for each design.
Digital graphic design businesses take many forms. In the B2B version, you create vector graphics and images for other designers. They can download the files and use them in their own designs. As a print-on-demand graphic designer, you make designs for T-shirts, mugs, and other physical products. When a customer orders, a third-party printer handles the printing and shipping.
A digital graphic design business usually involves an online marketplace or sales platform. Etsy, Zazzle, Redbubble, and Printful are some of the most popular options. You can create a shop and add your designs; in return, the marketplace takes a percentage of each sale. When you're just starting out, this is a great way to gain access to an audience and a trusted payment process. As you build a following, you may decide to build your own ecommerce website.
Although digital design businesses are relatively new, they have the same structural, marketing, and legal requirements as a traditional model.
Setting Up an Actual Business
Some graphic designers work in-house for companies that need graphics on a regular basis while other graphic designers work as independent contractors. A real business is different from these two ventures as it may come with requirements for a business license, lease on an office space, professional equipment like computers, and a business plan.
When you're starting a graphics design business, there's plenty of flexibility in terms of structure. In the beginning, the three most common options are:
Sole proprietorship: As soon as you start doing business as a graphic designer, you're considered a sole proprietor. There's no need to register or form a separate legal entity, as your professional and personal assets and liabilities are intermingled. A sole proprietorship is a popular choice for graphic designers who are testing the waters or starting the business as a side gig. It's also an option if you're on a tight budget.
Partnership: If you're starting a graphics design business with another person, a partnership is a way to formalize the arrangement. This structure clarifies roles, ownership, and tax responsibilities.
Limited liability company (LLC): An LLC separates your business assets from your personal assets. It protects your home, savings, and vehicle from lawsuits and bankruptcy in the business. This type of business also comes with different tax requirements and additional reporting.
Are you unsure about which business structure is best? It can help to write a business plan. This document forces you to think through all aspects of the company:
Company description
Analysis of your chosen market
Structure of the business
Graphic design services you want to provide
Marketing
Required funding
Projected revenue and profits
If you need help setting up a business, there are many resources available to help. As the owner of a newly formed company, you may want to tap resources like the United States Chamber of Commerce and the Small Business Administration (SBA). Your local Chamber of Commerce will help a new company navigate city ordinances, and the SBA may help a new company find funding or grants to get the business off the ground.
A graphic design business is a streamlined enterprise; all you need is a computer and an internet connection to work with clients from around the world. For that reason, many new design businesses are home-based sole proprietorships or LLCs. This reduces overhead costs and makes it easier to get a new company off the ground.
Whether you're setting up an office or working from home, you may need to get a business license or permit at the state and/or local level. The requirements can vary considerably by city, county, and state. In some cities, you don't need a business license if your graphic design business is a sole proprietorship. Others require a license even if you're working on a part-time freelance basis. Call or visit your city or county clerk to find out about local regulations.
Marketing and Promoting the Business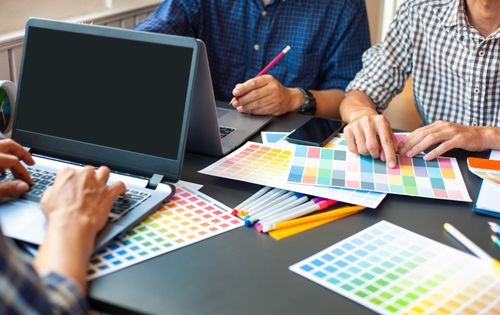 In business, the movie quote "if you build it, he will come" does not usually apply. It doesn't matter how talented you are at graphic design — your brand-new company won't have a single customer if nobody knows about the business. That's where marketing comes in.
Whether you're running a sole proprietorship, an Etsy graphic design shop, or a brick-and-mortar LLC, marketing is essential. When starting a graphics design business, some ways to get the word out about your company are:
Marketing emails or direct mail to potential clients
Cold calling or visiting local businesses
Display ads on Google, Facebook, or Instagram
Content marketing: Writing informative articles that bring traffic to your website
Printed posters, signs, brochures, and business cards
Joining a local small business association
Social media marketing
Asking for referrals from friends, family, or past clients
The marketing method you choose depends on the clients you want to serve. If you're interested in working with local businesses, you might join a local professional association and hand out business cards at events. Do you want to work remotely with clients from around the world? Try targeted social media ads, content marketing, or cold emailing.
When you're marketing a graphic design business, self-promotion is key. Tell everyone you know about your new venture — you never know which friend or family member might provide a valuable connection.
Attracting the attention of potential clients is just the first step in marketing your graphic design company. As a new business owner, you must consider two very important parts of a well-marketed business: proven ability and positive recommendations or referrals.
First, your graphic design company must be able to demonstrate artistic and technical prowess through a comprehensive portfolio. A portfolio is simply a collection of your best graphic design work. It proves to customers that you have the technical skills and design abilities to get the job done. Many customers want to see examples of past projects, particularly if they're for successful or well-known clients.
Most graphic designers create a portfolio while working towards their graphic design degree. If you don't have a degree, don't worry; you can start now to build a portfolio. Volunteer to create free designs for friends, family, or local community organizations. When that's not possible, design different materials for yourself or imaginary companies. The portfolio should be highly relevant to the type of graphic design business you want to create.
In the age of the internet, a website is non-negotiable for a new graphic design business. Upload your portfolio items to the site — then, you can add the URL to your marketing materials. Keep in mind that clients will look at the website itself as a portfolio item; make sure the design matches your style and skill level.
With your marketing strategy and portfolio in place, it's time to solicit recommendations or referrals. Past clients are a big asset for a newly formed graphic design business. As you build the company, reach out to past clients to ask for recommendations and referrals; this is an efficient way to build new business connections.
Your existing professional connections are also a great way to find new clients. Using email, phone calls, or LinkedIn posts, reach out to your business contacts. Let them know about your new graphic design business, and ask them to pass along your information to anyone who might need your services. As long as your parting was amicable, past colleagues and supervisors are often delighted to help. If these contacts are familiar with your graphic design work, they may also offer recommendations that will help your company find new clients.
Marketing doesn't stop when graphic design jobs start coming in. Encourage happy clients to pass along your name to their professional contacts; personal referrals are one of the most powerful tools for a new business.
Starting a graphics design business is an exciting opportunity with plenty of financial potential. According to the Bureau of Labor Statistics, the median pay for a graphic designer was $44,150, as of the most recent statistics on wages in the United States. When you start your own graphic design company, the potential income increases significantly.
Graphic design is an ever-expanding industry. As demand grows for content, technology, and physical products, companies are constantly in need of designers to help promote their businesses. With a solid structure, a clear market analysis, and professional marketing materials, you're prepared to take on new opportunities and build a successful graphic design business.
Related Resources: