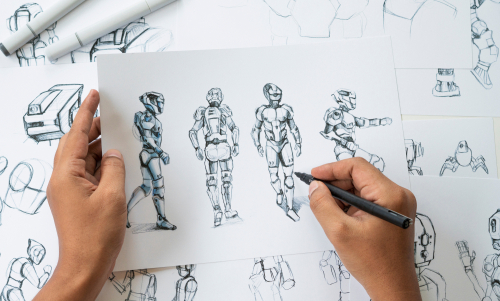 There are quite a few jobs available to graphic designers. Graphic designers can work in a number of fields and graphic designer jobs can include a wide variety of daily tasks. Below are just some of the jobs available to graphic designers.
Web Design
A number of graphic designers choose to employ their talents in web design. Web design is ideally suited to graphic designers who are highly tech savvy and are familiar with coding. Web design services are needed by virtually every business on the planet because of how important websites are to a company's online presence. Web designers need to be creative and able to choose good graphics and fonts to make a website really stand out. This makes graphic designers a good choice for this line of work because it does involve more than just an ability to code. This is one of the foremost jobs available to graphic designers.
Marketer
Many graphic designers work in marketing, at least to some extent. The creation of graphics that advertise products and services and catch the eye of customers is needed in nearly all marketing departments. This usually takes the form of designing various forms of advertising, whether online ads, videos, brochures or others. The goal of graphic designers who create advertising and marketing material is to effectively reach the target audience by communicating information about a product or service in an attractive way. They can work for an individual company, a dedicated marketing firm or as freelancers working with individual clients. Graphic designers working in marketing are usually responsible for reviewing designs before they go to print to ensure there are no errors.
Animator
Animators can work in a number of different industries, including the video game industry, the film industry, the advertising industry and more. They use their graphic design skills and creative imaginations to add special effects or bring creations to life. Competition for animation jobs can be strong, but it is a hugely rewarding career for an artist who enjoys using the power of animation to tell a story or get a point across. Graphic designers wanting to become animators should cultivate a portfolio of their work to successfully bid for jobs as well as perhaps gain additional education in animation.
Art Director
Art Director is one of the most prestigious positions an individual with a graphic design degree can obtain. Art designers typically command a high salary – an average of $92,500 a year according to the Bureau of Labor Statistics. As the job title implies, these professionals oversee the art design for a specific project or projects. This can include magazines, books, packaging for products and advertising of many different varieties. Art directors need to be highly creative as well as good managers in order to perform their duties well because they direct other graphic designers to create the final product. Graphic designers usually become art directors after being employed in the industry for several years and having sufficient experience to perform the role well.
Graphic designers need not be limited in the kinds of work they can do because graphic design is used for a number of different purposes in a number of different industries. Graphic designers can help bring an animated feature film to life or design eye-catching custom logos for companies. There is little limitation to what can be done in jobs available to graphic designers.
Related Resources: