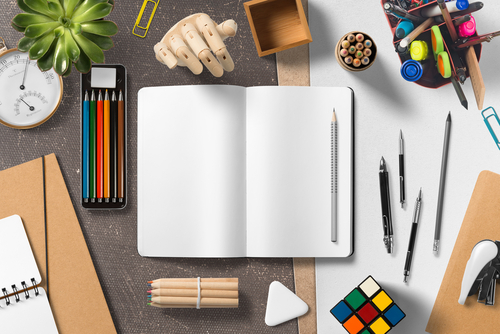 There are quite a few people working in graphic design who do not feel organized, and they fear losing their projects or losing work because of it. This article offers a few tips that will help a designer remain organized, design more and offer more creativity in their work. Online resources will go quite a long way in helping the designer, and they may take steps to remain organized as seen in this article. Accreditation of their work is only one part of the job. Keeping an organized workspace is quite important.
Use Folders Often
There are quite a few people who may believe they have a stack of projects that all look the same, but that is not the case. The projects fall into a number of categories, and it is important to designer has taken the time to organize their projects according to their style, purpose or industry. Each project may be dropped in the proper folder, and they may be found again in moments.
Tag Projects with Their Accreditation, Award, and Citation Tags
The projects that have been created and completed must be filed according to any awards or citations they have won. The finest designers are noted for their work, and they must have a way of showing it to others in the future. They may pull up their work according to its accolades, and they may enter it for other contests as needed. The designer may be asked by a potential employer what their best work is, and they may go to the folder that has all their award-winning work. It is quite important the finest work by a designer sees the light of day.
Print The Projects
Sharing graphic design online or in an electronic form is quite important in the modern business world, but it may be a waste of time in certain circumstances. someone who works in the field every day will find it much simpler to print their projects for a traditional notebook. The notebook may be shared in casual settings, and it creates quite a lot of shock and awe that certain people are not used to. They are quite happy to look at something on a computer or tablet, but holding the book is important. The book may be organized alphabetically, and it will be easy to add to when projects are completed.
Save in a Secure Place
The secure location to save graphic design projects is a large part of the organization process. Someone who is searching for a place to store their projects may use a secure server, or they may choose a service that will hide away their projects for them with the best in security technology. It is quite simple to ensure the projects are safe, and their folders may be transferred to the storage location that is used.
Graphic designers must go far beyond the accreditation of their own work. They must organize it properly, secure it and ensure it is easy to see. They will show off their work often, and they will note how simple it is to change their portfolio to something that is easier to use. They may share their work online, or they may print their work to slide into their next folio.
Related Resources: