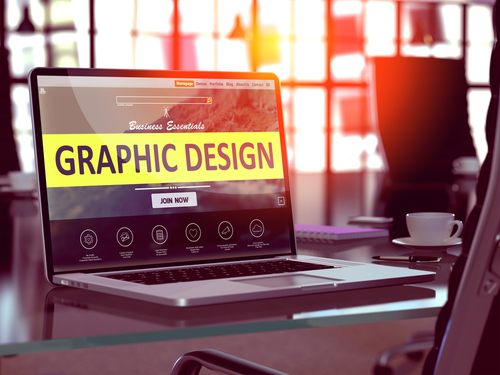 Managing a graphic design project is not a simple matter of meeting design standards and complying with deadlines. This type of project involves a team of creative people, which can be a challenge because you want to make sure that you are nurturing the process of exploring and innovating. However, meeting deadlines and budget restrictions are just as important in business.
1. Define Clear-cut Goals
The project kick-off meeting is the best time to discuss any problems, project parameters and goals. It is the initial brainstorming session, which should make it the right time for you as team leader to set forth clear-cut suggestions to move the project in the right direction. Waiting until later to discuss project guidelines will waste your team's time and effort, delaying completion and possibly incurring extra expenses.
2. Check-in but Avoid Micromanaging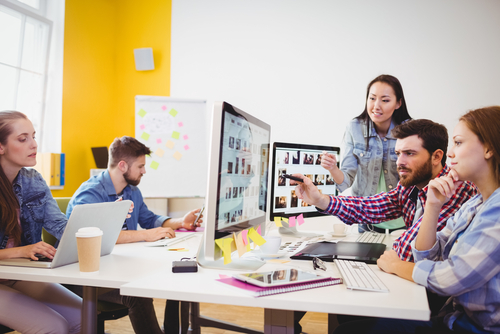 Check the progress of the team regularly, but avoid micromanaging the project. Creative people working on graphic design projects need room to work productively. Minimize the distractions and allow the team to work independently while encouraging their passion for the project. Creative minds feel valued if they are given the authority to make decisions. They feel relevant if they have direct access to higher-ups in the organization whose input may be needed to move the project along. Provide feedback in a timely manner, and solicit feedback even while the design is in process.
3. Prioritize Team Effort
Treat the team as a cohesive unit, doling out praise to the team and directing critiques to the whole team. Calling out individuals for positive or negative reasons will only create unnecessary competition. Encourage collaboration instead of competition to make sure that each one puts forth their best effort for the project. In other words, the entire team gets the accolades and the bonus, if any, regardless of how much or how little they contributed to the project.
4. Provide a workable schedule
Graphic design projects take time to brainstorm, develop, review and revise if necessary. There will be cases when clients want their deliverables within an impossible time frame. Shield your creative team from these kinds of pressure. Ranting will not make the project move along faster. As team leader, you could negotiate that the client will be able to view work in progress instead of waiting to see the finalized project. Appease the client by offering revisions as needed during the process. With your team, strive to be firm when giving directions, but be respectful of their artistic quirks.
5. Use Technology to your Advantage
Today's graphic designers have access to various tools, including different apps and devices. There is also a wealth of information that is now accessible to everyone on the Internet. Make sure that your team is given access to hardware, software and research resources to support their creative process. Project management apps can create timelines and monitor progress so that you can make adjustments to the work schedule as needed. Productivity apps such as time trackers are also helpful to ensure that everyone stays on track as the work progresses. Using a time tracker will tell you how much time went into each phase of the graphic design project, which you can use as basis for future project estimates. Other helpful apps include contract templates and virtual assistants.
6. Apply a Strengths-Based Work Approach
Graphic design project management is all about playing to team members' unique strengths. Every graphic designer brings a special skill set to the project. Get to know what team members enjoy the most. Use the popular positive psychology tactic of prioritizing strengths over weaknesses. If someone struggles with Photoshop editing but excels with typography, assign project tasks accordingly. Gently pushing people out of their comfort zones is okay. However, don't give project members assignments well outside their wheelhouse. For instance, avoid giving public presentation roles to shy introverts and behind-the-scenes coding roles to outgoing extroverts. Accept each team member as they are and maximize their talents. This will boost team engagement and productivity to crush project deadlines.
7. Stay Connected for Open Communication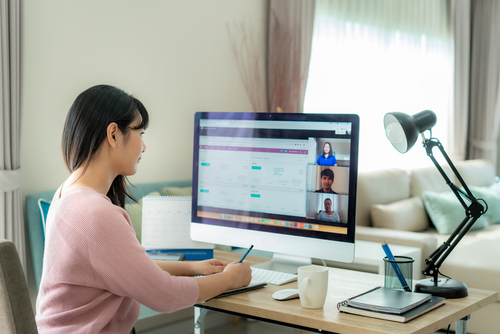 In the 21st century, graphic design project management often requires connecting team members scattered around the nation or globe. Graphic design is an ideal niche for remote telecommuters to join. That doesn't mean graphic designers can be isolated islands without any peer interaction. Team leaders must encourage active, ongoing dialogue through various modes of communication. Picking a web conferencing platform, such as Zoom or WebEx, that works on various mobile devices is key. Project members should be reachable regardless of their using a desktop computer, laptop, tablet, or smartphone. Engage in regular project progress meetings whenever time zone changes allow. Have a method like email blasts or group text messages to instantly alert team members on new client requests. Graphic design projects are more successful when everyone freely communicates with each other.
8. Organize All Graphic Design Project Materials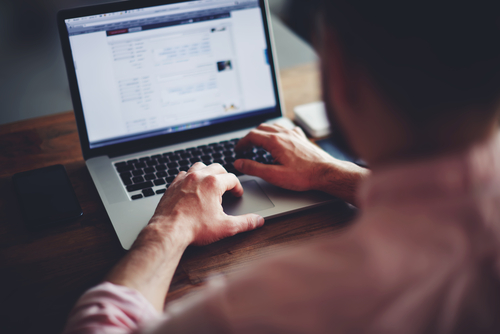 Graphic design project management can feel like putting the pieces of a jigsaw together. Puzzled team leaders are left juggling each designer's different version of the same project. Fortunately, the internet offers an effortless remedy to this multi-tasking dilemma. File hosting platforms let team members synchronize their project progress. Team members working independently from their home offices can view the same materials anywhere 24/7. Organize project documents and designs in a single, secure cloud every member accesses. Free, convenient websites like Google Drive, Dropbox, pCloud, Box, and Microsoft OneDrive are suggested. These storage solutions keep project materials right at everyone's fingertips. Team members see saved changes on organized media files all kept tidy in one place. Uploaded project folders also usually have offline access in case internet connections fail.
9. Keep Graphic Design Projects From Wavering Off Course
One common issue encountered in graphic design project management is called "scope creep." This occurs when the project's scope consistently expands like an inflating balloon. Five crucial graphic design features turn into 10 or more. Team members get off track by designing unnecessary elements, which wastes time and labor. Subtle adjustments and tweaks to project goals are normal during the design life cycle. Nonetheless, avoid compromising on the initial project guidelines. Going too far outside the client's initial project parameters can backfire. Extra work increases the likelihood of needing a bigger budget and a longer deadline extension. Clients won't be happy campers if their logos or packaging designs are delayed. Team leaders must take the reins and steer the project direction to the finish line. Create a checklist to streamline the team's progress and avoid unnecessary or repetitive tasks.
10. Sharpen Negotiation Skills for Conflict Management
Graphic design is a subjective art form that affects every person differently. Creative team members will often have big personalities and strong opinions about designs. Inevitably, some project members won't see eye to eye on certain design elements. For team leaders, graphic design project management necessitates good conflict meditation skills. Don't let disagreements escalate and derail the project's productivity. Leaders must command their power in having the final say on project designs. Overuse of power can harm one's reputation though. Thus, negotiating fair compromises between two or more design ideas is smart. Appease the conflict by drawing design elements from multiple team members. This prevents team members from feeling undervalued and ignored. Listening to different points of view frequently makes the end project result more appealing to the masses.
Must-Have Tools for Graphic Design Project Management
As shown in #5 above, today's graphic design projects require having up-to-date technological equipment. Team members need a wide range of hardware and software. Laptop or desktop computers should be outfitted with a monitor calibrator for vivid coloring. Monitors should be 15-inch or bigger to accurately view each graphic pixel with proper resolution. Graphics processing units (GPUs) with large memory banks are recommended for design work. Reliable external hard drives help securely stock project files without asset loss. Graphic design tablets with precise pencil styluses are essential for sketching. Digital single-lens reflex (DSLR) cameras are important to produce crisp, crystal-clear photographs. Designer offices need an efficient setup of multiple devices and an ergonomic chair. Investing in electric standing desks can protect graphic designers from sedentary lifestyle risks and back pain.
Wielding computer mice like magic wands to create top-quality graphic designs isn't possible without software. Each designer needs an Adobe Creative Cloud subscription to manage their workflow. Adobe applications, including Photoshop, Illustrator, and After Effects, ensure graphics are edited to perfection. Similar software like Scribus and Pixlr could be added for free. Designers' iPads are streamlined for illustrating with the $9.99 Procreate app and Apple Pencil. Having the Microsoft Office Suite software is suggested for making PowerPoint presentations and tracking client bills. Coding applications, including Microsoft Visual Studio and Notepad++, help with web designs. Animaker, Autodesk, Powtoon, and others assist with animating stellar graphics. Graphic design projects require strong security software to avoid viruses and malware or adware. Traveling graphic designers should establish a virtual private network (VPN). Technology also provides the following graphic design project management aids:
Basecamp – Basecamp is a must-have graphic design project management app for fostering team collaboration. Developed by CEO Jason Fried in 1999, this Chicago-based software firm charges a reasonable $99 monthly fee. Unlimited users can access the easy-to-use interface and share designs. Basecamp has a responsive design for any mobile device to organize meetings, mark up files, and join team discussions on the go.
Resource Guru – Resource Guru is a graphic design project management tool to solve team scheduling woes. Founded by Andrew Rogoff and Percy Stilwell in 2011, this app has successfully helped members on 1.44 million projects! The 30-day, risk-free trial leads to a measly $2.50 monthly fee per person. Resource Guru helps sync project calendars, set client bookings, track team work hours, file time-off requests, and amend client bills.
Hive – Hive is a remove work productivity platform with 1,000+ integrations for graphic design project management. Built by John Furneaux and Eric Typaldos in 2015, Hive has an enterprise pricing model of $12 per user monthly. The software giant with $10.6 million in funding connects busy worker bees at Fortune 500 companies like Starbucks, Toyota, and Comcast. Hive helps teams create Gantt charts for project schedules, label in-progress or finished tasks, communicate via action cards, and send designs for proofing.
Paymo – Paymo is a superb graphic design project management app to ensure freelance and staff team members get aptly paid. Started in 2008 by CEO Jan Lukas, this Romania-based software provider has more than 150,000 global partners. Creative agencies pay $8.95 to $14.95 per month based on team size and gigabits of storage desired. Paymo lets team leaders make Kanban Boards to visually depict project workflow. Users calculate project budgets, estimate labor costs, track task times, generate client invoices, and accept payments.
Asana – Asana is a team-centric graphic design project management tool with a user-friendly dashboard to monitor goals. Since 2008, the San Francisco software company led by Dustin Moskovitz has attracted more than 2 million active users in 194 nations. The $10.99 monthly cost for Asana Premium comes with advanced features like Jira Cloud and Salesforce integration. Yet, free access helps small teams create client intake forms, make project to-do lists, set assignee due dates, log project activities, and save important conversations.
RoboHead – RoboHead is a trusted graphic design project management platform to solve day-to-day teamwork challenges. Run by Aquent Cloud since 2004, the Boston-based firm has served thousands of brands like John Deere, Amazon, Wells Fargo, and Honda. RoboHead offers its one-stop project solutions with 24/7 tech support for $250 per month after a free demo. Managers can easily onboard new members, initiate project requests, build task templates, give feedback notes, prioritize creative deliverables, and make expense reports.
Slack – Slack is essential graphic design project management software to connect remote workers outside of email inboxes. Publicly traded with a $21 billion valuation, Slack was written in 2013 in Electron by four co-founders, including Stewart Butterfield. This digital workspace allows team members to talk via email and SMS messages publicly or privately. Each conversation is threaded into channels and searchable based on keywords said. Slack also has face-to-face video calls and screen sharing options for ample communication.
Regardless of the graphic design project's size, good management is the secret to success. It's always productive and efficient to communicate with project teams as whole, cohesive units. Ensure that specific, measurable, achievable, realistic, and time-based (SMART) goals are clearly defined at the outset. Double-check that every team member knows exactly what's expected of him or her. Team leaders need a system for monitoring progress with in-person or virtual check-ins. Put project materials indexed and organized together for safekeeping. Utilize the above technological tools to improve the team's productivity too. With a confident, engaging graphic design project management style, teams will give clients outstanding innovations that attract the targeted consumer audience.
Related Resources: