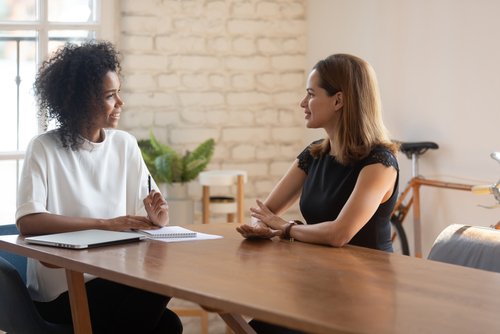 If you're interested in writing, you might wonder what does a journalist do on a daily basis? This career involves a combination of collecting information, interviewing sources, attending community meetings, collaborating with editors and writing stories. Specific duties will vary based on the type of journalism position. In addition, some basic skills are required for the job. Keep reading to discover more about a career in journalism.
What Is a Journalist?
A journalist is an individual who is responsible for investigating, collecting and presenting information in a news story. These stories can be presented in a number of different mediums, including newspaper, Internet, magazine, radio and television, among others. They have a duty to present information to the public in a non-biased and factual way their audience can trust. There are a number of opportunities within the field of journalism.
According to Princeton Review, in addition to the different types of outlets a journalist can work for, there are also a number of positions and specialties within the profession. Reporters work directly to gather information. They then present that information in a story form. They may specialize in topics such as education, politics, lifestyle or sports. An editor is in charge of deciding what makes it into a publication. This person oversees reports and makes final calls on articles. A photojournalist uses photography to report the news. They may work on their own or with a reporter. These are just a few of the top jobs in journalism.
What does a Journalist Do?
Journalists can have a lot of variety within their daily schedule. Common duties for a journalist include:
Keeping up with news trends
Researching stories
Interviewing people
Writing
Editing
Staying on top of the latest news trends requires journalists to check newswires like the Associated Press and Reuters, along with social media platforms. Editors primarily handle this part of the job and then assign stories to reporters. Researching stories is important. It involves making sure facts are checked for accuracy and identifying sources. Interviewing subjects such as witnesses, experts, community leaders and others is a big part of the job. Journalists get the information from the source and present it in a way that tells a story to the public. This is done through writing a coherent story and conducting a final edit to make sure the narrative flows and that the content is free of errors.
Skills Journalists Need
Becoming a journalist is difficult because it's an extremely competitive market. It's important that those who are interested in this career possess certain traits in order to make the cut. A journalist candidate should be creative. Generating ideas and finding ways to present them are part of the job, as well. Journalist should have good social skills. Interviewing people is difficult. It often involves sensitive subjects. If a reporter wants the source to cooperate, it's important that they make themselves approachable. Finally, journalists should be flexible and ready to go at a moment's notice. News happens quickly. The professionals who cover it must be ready to go at a moment's notice.
This is an overview of the journalism profession. What a journalist does can vary, but it's always an interesting and diverse position.
Related Resources: