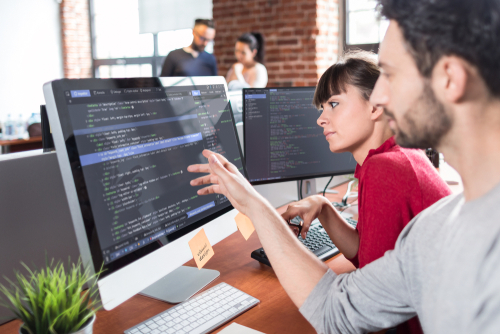 A web designer is responsible for creating attractive and fully functional websites, but they do more than just that. If you are a creative individual and you are technically inclined, it is time to learn about the roles of web designers and why they play such an important role in today's modern world of business. Read on, and you can learn about the duties of the designer, how to get qualified, where they are employed, and what the job outlook looks like in this field.
The Duties and Responsibilities of a Designer
Professionals who specialize in web design will organize information, create content, and design the layout of the content on a web medium. It is the designer's job to review the needs of their client or the goals of their assigned project to design images and web pages that will create a user with a unique experience while still communicating a message. The scope of the project will be dependent on the communication problems a client wants to solve or the current status of a company's website. Some other responsibilities include:
* Using appropriate underlying technologies for website functionality
* Designing navigational elements
* Translating needs of clients and users into concepts
* Turning brand into graphics, colors, layout, and fonts
* Using HTML coding to layout the website
* Presenting content
* Designing to search engine optimization and rankings
* Updating the website as needed
How to Become a Web Design Professional
Some web designers are self-taught and build their portfolio by taking on unique projects for themselves or people they know. While being creative will give you an edge, you will need marketable web design skills that you have developed in a technical training program to build your resume.
Unless you have learned all of the HTML languages and skills you need on your own, you will need to enroll in a college degree program. It is best to study for a Bachelor's in Graphic Design or Computer Science so that you can learn HTML, Design, Layout, Programming, Administration, Graphics, XML, scripts, and everything else you need to know to be a successful professional designer.
What is the Job Outlook in Web Design
If you are a trained designer, you can find jobs through a design firm, a large corporation, or you can take on clients as an independent contractor. About a quarter of all designers in the market are self-employed today. Demand is different in each of these environments. It is nice to know that companies are investing in building their websites and keeping them attractive. This is why the Bureau of Labor Statistics projects that the need for designers will grow by 20 percent in the next seven years. This growth is much faster than the average growth reported in the nation as a whole.
Where Do Web Designers Work
Web designers work on the creative side of the technology industry. The Bureau of Labor Statistics counted 160,500 U.S. web design jobs in May 2018. Seventeen percent were at computer systems design firms. Sixteen percent of web designers are self-employed for freelance work from home. Five percent of web designers work for software publishers. Five percent excel in technical consulting services. Four percent are employed by advertising and marketing firms.
A web designer could also work for a bank, school, hospital, hotel, app development firm, or nonprofit organization. The majority of web designers work full-time for 40 to 50 hours weekly. In-house web designers spend their days at computers in comfortable office settings. Popular tech companies for web design jobs include Google, Facebook, LinkedIn, Zoom, Adobe, HubSpot, and Microsoft.
Salary Potential for a Web Designer
The U.S. News & World Report ranked web design the third-best tech job and 13th top STEM career. Web designers enjoy low stress and high salary potential with a great 1.3 percent unemployment rate. A web designer can expect a median annual wage of $69,430. Web design earnings generally range from $39,550 to $142,080. Web designers bring home mean pay of $82,370 per year or $39.60 hourly.
Software publishers provide web designers with the top average profits of $132,260. Securities and commodities exchanges come in second with a $102,190 median rate. Top-paying states for web designers are Washington and California with a $134,310 and $90,230 average respectively. In particular, the Seattle metropolitan area has the highest-paying web design jobs averaging $138,600.
Technical Know-How a Web Designer Needs
In today's digital age, web designers are building websites from the ground up. Designers must be tech-savvy with a rich knowledge of computer programming languages. Being proficient in the HyperTest Markup Language, or HTML, is required. HTML determines how headlines, content, images, and videos look on a published website. Web designers typically know about Cascading Style Sheets, or CSS. This coding language signals to internet browsers how the color, font, and backgrounds of pages should appear.
JavaScript is important to develop interactive web features like moving graphics, online games, and countdown clocks. Designers using WordPress must know PHP to make websites functional. Python is applied by web designers when creating server-side applications. Other commonly used programming languages include SQL, C++, Ruby, Go, Swift, and Scala.
Skills Web Designers Must Have
Web designers must also possess "soft" skills to complete site projects. Communication skills are critical for web designers to speak clearly with clients and team members. Listing skills are needed to understand what clients want for their websites. Creativity makes great web designers think outside the box when developing unique sites. Time management skills help designers multitask and deliver stellar websites by the deadline. Problem-solving skills are a must for web designers to remedy unforeseen tech glitches.
Web designers have strong attention to detail to concentrate on every segment of code. Critical thinking skills are essential to forecast how a site will look before publishing. Designers must be resourceful to use diverse web tools and make the content user-friendly. Web designers need to value continuing education and be willing to learn internet changes. Successful web designers are generally artistic, enterprising, ambitious, confident, and good team players.
Certifications Available in Web Design
Since the field's educational requirements are lax, a web designer could earn professional certification instead of a degree. Certifications prove to employers that designers have the essential skills listed above. For example, the CIW Web Design Specialist certification requires passing a 70-question, 75-minute test on internet development essentials. Amazon Web Services offers the Certified Associate Developer title to designers who pass a 130-minute, multiple-choice exam for $150.
For more than 20 years, the Association of Web Professionals (AWP) has credentialed Certified Web Designers who succeed on a 70-question multimedia exam. Adobe grants the ACE Web Specialist certification for professionals taking two or three $180 tests online. Attending the Google Ads Academy for certification could also help learn SEO fundamentals. Certified web designers are masters at creating useful online page layouts.
Web Designer vs. Graphic Designer: What's the Difference?
Web design and graphic design are two related creative arts jobs that aren't synonymous. Graphic designers devise beautiful graphics for print or digital projects. Even when publishing on the web, graphic designers don't write code. Graphic design is more focused on visual aesthetics. In contrast, web designers must program sites to run efficiently. Web design is concerned with how things look as well as how websites load for good user experience.
Graphic designers excel at drawing images for books, magazines, newspapers, brochures, and the internet. Web designers only use the latter of these media to convey visual messages. Graphic designers have more freedom to use any font size, shape, or color. On the flip side, web designers are constrained by CSS limits and what is readable on computer screens. Web designers also have to continually maintain sites, whereas graphic designers rarely make changes once a graphic is printed.
Upward Mobility for Web Designers
Experienced web designers can advance beyond the entry-level into several in-demand careers. For example, senior web designers could move into UX design roles to ensure the consumer usability of sites. Web designers can become computer systems managers to oversee a company's tech projects. Web architects have greater responsibility for implementing a wide array of interactive tech solutions, not just sites. Cybersecurity managers implement policies that keep sites safe and data protected from hackers.
Content marketing managers optimize a website and social media content for SEO to increase online brand recognition. Art directors have total control over the finished aesthetic quality of web publications. Full-stack developers design software from the front to back end for smooth performance. DevOps engineers conduct planning and testing to ensure the successful deployment of online software platforms.
Job Search Tips for a Web Designer
Interested in using HTML and CSS to construct sites that attract online traffic? Then, landing a web design job is the next step. Web design applicants must have a creative, competitive digital portfolio. Building a free portfolio website on Adobe, WordPress, or a similar platform helps show off design examples. Portfolios should be a slideshow of 10-20 top-quality, original web pages.
Customize a web design resume with relevant in-house or freelance jobs and internships. List any college degrees, certifications, or coding boot camps completed. Point out specific skills, especially programming proficiency and foreign languages like Spanish. Every web designer needs to pass an interview process too. Prepare by forming solid answers to popular interview questions. Convey passion and dedication by dressing professionally for the interview.
If you want to be responsible for the look and functionality of some of the most accessed websites on the world wide web, it is time to study to become a web developer or designer. You should look for only accredited programs that have met high standards so that you can develop all of the right skills. Once you know the ins and outs of design and you have to build a portfolio, you can either apply to work as an in-house web designer or you can start to market yourself independently.
Related Resources: