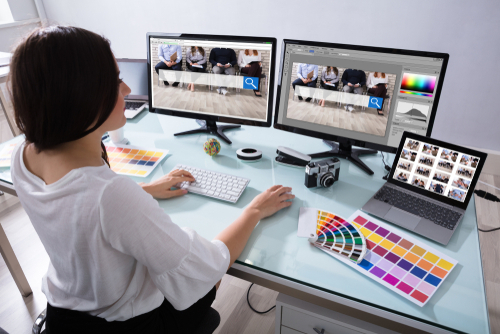 As graphic design students settle on their major field of study, they begin to wonder which subject area offers the best minor with graphic design coursework. Many options are available, ranging from a business minor to art history, political science, education, and a whole slew of other fields. Some of these options, however, are better than others. Graphic designers have both a unique set of a skills and a unique set of post-graduation job opportunities awaiting them. To best take advantage of the graphic design industry and its unique employment prospects, students should pick one of several majors that enhances their position in the modern economy and complements their design skills in a dynamic way. The best majors are enhancements to the designer's already advanced skills.
Business
Many graphic designers eventually seek positions at advertising agencies or major corporations, but an increasing number of graduates are taking a different path. These graduates wish to be their own boss and start their own business. While it doesn't take a degree in business to make that happen, the truth is that the entire process will be easier for graphic designers who select a minor in the field. This more limited study of business skills will teach designers the laws of creating a new business, the rules for bookkeeping and financial reporting, and how to manage staff as the business grows and requires additional people to meet the needs of all clients.
Computer Science
Graphics are a big part of mobile applications, desktop software programs, and advanced websites. Graphic designers who wish to work in these fields will benefit from taking on a minor in computer science. As part of this program, students will learn the basics of computer programming and object-oriented design, the fundamentals of web development, and ethics concerning the development of software for today's users. Though they may never have to code themselves, they'll at least be versatile enough to do light programming work at today's major employers and they'll have appropriate context when building images for a program or website.
Web Design
While computer science minors are broad and give students a brief brush with all kinds of programming, security, and tech management skills, the minor in web design is a great deal more specific. This minor can actually help to create a well-rounded graduate who's prime for both self-employment or work in a web design agency. With between 18 and 21 credits relating to HTML, CSS, JavaScript, and other skills necessary for designing for websites, graduates will be able to create entire websites with their own set of skills.
Advertising
Many graphic designers seek employment with advertising agencies, since this is a prime opportunity to combine corporate branding with unique designs that grab consumer interest. In order to do the job just a bit better, however, graphic designers who wish to take this career path would be well-advised to consider a minor in advertising. They'll learn the basics of advertising design, the ethics of modern advertising, and the numerous formats where their graphic design work will eventually be utilized.
A major in graphic design gives students a versatile foundation that can translate into all kinds of work. To make the degree even more specific and marketable, it's a good idea to pick the right field of specialization, from business and advertising to computer and web programming. Each of these options for a minor with graphic design degree programs helps to focus the degree and put the graduate ahead of their competition.
Related Resources: