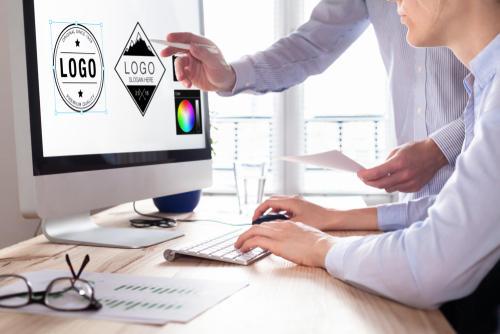 Most colleges and universities encourage technology students to diversify their academic portfolio to increase their resume marketability and career stability. A minor in graphic design gives students a versatile skill foundation that translates into different fields and kinds of work. In order to make a graphic design degree more marketable, it's a good idea to pick the right major.
Graphic Design Minors
A graphic design minor will most likely focus on the design process and stages. Students will learn how design thinking can be used for exploration, communication and market research. Students are introduced to the history, theory and application of graphic design across multiple disciplines. The graphic design minor provides an integrated introduction of the basics that is enhanced by results-driven projects and traditional design courses. Students may receive non-traditional views of graphic design and how the field is changing because of technology advancements.
After graduating with a graphic design minor, students will have experienced design thinking, will appreciate the role that design plays in everyday life and will explore their own design interests. Students will understand the interdisciplinary nature of the design process how to successfully work with similar professionals in their future careers. Common classes include typography, which develops an understanding of the visual effects produced by type fonts and techniques, and web publication, which introduces students to the standard elements of web production like photos, sound, video, headlines and hypertext.
Recommended Classes
Regardless of the degree selection, a graphic design minor should be paired with certain classes. For example, an advertising class will introduce students to the critical marketing and business skills needed to succeed in the graphic design field. Students will gain a limited understanding of advertising concepts and research related to marketing principles, consumer behavior, identifying trends, media strategy development and promotional campaign planning.
A class on design management will prepare students to assume supervisory roles in the creative communications industry. Students will learn about creative teams, art direction and design strategies and appreciation. Students who take classes in communication will learn how to produce professional written products and solve problems in a collaborative team environment. Classes may cover communication graphics, models, techniques and management practices.
Complementary Majors
A minor in graphic design complements a variety of standard college majors. Many graphic designers seek positions at advertising agencies and popular corporations, but some want to start their own businesses. For these students, a business major is a good choice because students will learn about everything from marketing to management to human resources. These students will be prepared to become independent, self-employed professionals.
Students who want to focus on mobile apps, desktop software and advanced websites will benefit from taking a major in computer science. It is best to choose a program that focuses on computer programming, object-oriented design and web development. In fact, a web design major will broaden the technical skills of the student to include classes on CSS, HTML and JavaScript. An advertising major goes well with a graphic design minor because it combines knowledge of corporate branding with innovative designs that grab and maintain the interest of consumers.
A graphic design minor is a versatile credential that will help students in many careers. Anyone who wants to learn more about the job outlook, work environment and employment requirements for graphic designers can visit the U.S. Bureau of Labor Statistics.
Related Resources: