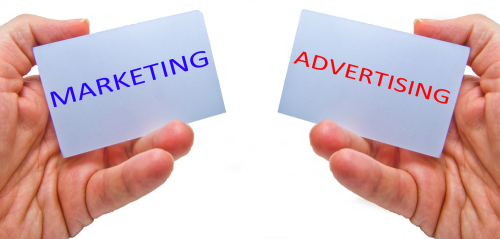 While the two terms are often used interchangeably, there are differences in marketing and advertising that business owners and prospective students need to know. Marketing and advertising are two very important practices that help small, mid-sized and large businesses in all industries promote themselves to targeted markets so that the business can grow, increase sales, and improve brand recognition. If you are not familiar with the differences between marketing and advertising and you are planning to enroll in school, here is a straightforward explanation so that you can choose the right major and occupation.
What is Advertising?
At your first glance, it may look as if advertising and marketing are one and the same. In actuality, advertising is always marketing but marketing is not always advertising. This is because advertising is part of the marketing discipline and is its own unique process of making the product be known to target markets and consumers in specific regions.
Advertising is the focused process of spreading the word about a specific product or service to all consumers. Several different advertising channels can be used to make this process of promotion possible. From banner ads and billboard ads, to radio and television ads, the method that is chosen generally dictates how successful advertising initiatives are. No matter how much advertising is done, a company cannot succeed without a full-featured marketing plan complete with several marketing strategies.
What is Marketing?
Marketing is the larger process of promoting value to consumers so that they are willing to exchange something of value for a product or service that is being offered. As the larger process, marketing should be important from the time a product is being developed until the time the product is sold off of the shelves. This is why marketing includes not only advertising, but also many other processes like research, product development, pricing strategies, sales strategies, marketing tactics, branding, customer retention efforts, brand management, sales channel selection, public relations, and distribution.
What Will You Learn As a Marketing Major vs. Advertising Major?
The difference between each major is what the curriculum will focus on. While advertising is a part of marketing, an advertising major will focus strictly on this process of marketing and not the other processes that fall into the discipline. You will take courses in public relations, management, consumer behavior, graphic design and strategic communication when you are taking a degree program majoring in advertising.
If you are taking a degree program majoring in marketing, the curriculum will cover a wider scope of topics. This may include marketing research, strategies, international marketing, personal selling, branding, retail marketing, online marketing, sales management, promotion management and advertising. These are solely the undergraduate courses you can expect to take.
The demand for both marketing and advertising managers is high. With the Bureau of Labor Statistics predicting that the field will grow by as much as 12 percent by the year 2022, there is promise that there will be openings when you graduate from school. Be sure to compare degree programs that are accredited before you apply or enroll when accepted. Once you find accredited options, choose the right electives to teach you the skills you need. Remember the differences in marketing and advertising, and decide which role you want to play.
Related Resources: