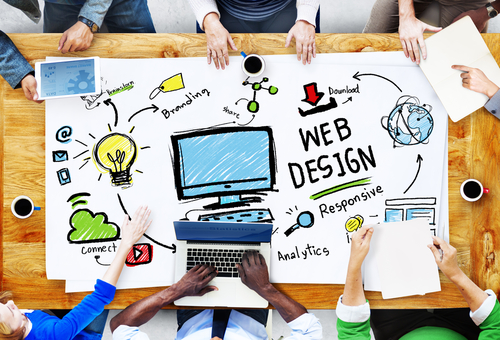 A web design degree often encompasses learning various skills related to creating content for use on, or through, the World Wide Web. These skills include: web design, computer graphic design, motion graphics, animation, user experience design, coding and computer engineering. Depending on the type of degree obtained there will more or less emphasis on any of these skills.
A degree in web design can lead to various jobs, such as a web developer, programmer or graphic designer. Furthermore, many web designers are skilled in mobile application development and the creation of new media projects for film, television and video-gaming.
Generally speaking, the types of personalities attracted to web design are the artistic type. Having an interest in the visual representation of things is helpful as well. Curious, investigative, personalities also find the computer coding aspect of web design stimulating.
Pros and Cons of Getting a Web Design Degree
There are a few disadvantages to getting a web design degree. First, a Web Design degree is often times as expensive as attending a private four-year university, especially if seeking a Bachelor's degree in web design, as opposed to an Associate's degree or certificate. Secondly, some believe that the time associated with earning a web design degree might be better spent learning how to actually do web design on your own while gaining real, practical experience. Also, part of the cost of the expensive education could be spent on a really powerful computer and up-to-date software.
The advantage to earning a web design degree is that it separates you from the crowds of so many that do not possess a formal education. It can position you as an industry leader and have long term effects in terms of income potential and sustainability.
A look at some of the top web design schools show incredible diversity in curriculum. Santa Clara University's Web Design and Engineering major blends computing, graphic design, communications and sociology. The Academy of Art University has a Web Design and New Media major where students combine web design with the latest mobile application and interactive technology. This major is also available in Online form. Both of these schools are located in close proximity to Silicon Valley, home to many web design firms. The International Academy of Design & Technology has campuses in many cities across the country, as well as an Online major program in Web Design and Development which features courses in programming, content management, web administration, open source systems and more.
So: Is a Web Design Degree Worth It?
A degree in web design can lead to several different career paths. As of 2010 a Level 1 designer's annual salary averages around $40,000 on up to $85,000 as a senior web designer. Software engineers average $90,000, graphic designer's $45,000, while writers and authors average $60,000 annually.
Like many other degrees a web design degree does not simply mean you are only qualified to do design work. As the world continues its shift toward mobile platforms, web designers are in demand at advertising agencies, fashion companies, automakers, and other industries not typically associated with computers. Web design and new media/multimedia/interactive media is positioned to become what the radio, television and motion pictures were to the twentieth century.
In an ever changing technology-filled world a web design degree is worth it. It can put you ahead of others, at the forefront of innovation. The tenacity and dedication required to earn a degree helps position those with a formal education as leaders who will find and maintain their place in this constantly shifting landscape.
Related Resources: