Advantages of Getting an Online Degree in Journalism
Continuing to Build a Reporting Resume
Covering Costs Is Easier
More Accessibility
Unparalleled Convenience
Equal Recognition
In order to take one's reporting career to the next level, obtaining an online degree in journalism may be necessary. Fortunately, the number of institutions that offer such programs is extremely high. That means that prospective students should not have any issues with finding the right school.
Continuing to Build a Reporting Resume
One of the most crucial advantages of taking online courses that lead to a journalism degree is the fact that the student will be able to continue building their reporting resume. This is because online education does not mandate people to attend any on-campus activities. Instead, that time can be dedicated to full-time work that will improve the resume and the reporter's marketability. They will subsequently be able to graduate with equally impressive educational credentials and experience. Not to mention that those who can continue to work while studying will be able to immediately start applying the new knowledge.
Covering Costs Is Easier
Obviously, the ability to pay for school is probably the first thing that many interested professionals think about. It is no secret that colleges are quite pricey, and online programs are no exception to this rule. Fortunately, anyone who decides to get their degree in journalism through distant learning will maintain the ability to generate income. Even if their job has nothing to do with actual reporting, the mere fact that they can sustain a consistent level of earnings will reduce the impact of tuition and fees. It will also help them attain some transferable skills in the area of budgeting and spending prioritization.
More Accessibility
Unlike traditional college programs for journalists, online degrees keep all materials and evaluations on the internet. Students will seldom need to retain physical copies of textbooks and other necessary items. Instead, everything that is necessary for successful completion of the course will be retained on websites like Blackboard or other educational platforms. This gives rise to an extreme level of accessibility. Why? Well, the only thing needed to get into the class will be an internet-enabled device. That means that anyone who has a phone, tablet, or computer accompanied by a wifi connection will have a way to complete assignments.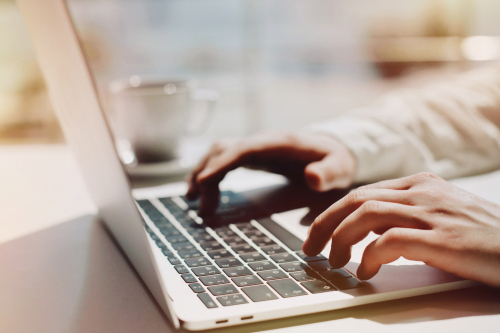 Unparalleled Convenience
In addition to the aforementioned accessibility, an online degree will bring an unparalleled level of convenience. For example, students can literally watch the lectures and complete assignments during any time of the day. As long as they are meeting their deadlines, there will almost never be fixed times for doing coursework. This is extremely beneficial for anyone who may have a family or a regular job that consumes up to 40 hours of their weekly schedule. By having the option to use late-night hours to study, online students will often retain more information and become knowledgable journalists faster.
Equal Recognition
Finally, it is important to address one of the most common misconceptions in the sphere of online degrees. A lot of people who are skeptical about earning their journalism degree on the internet worry about the subsequent recognition of such programs. In reality, however, many employers actually view these types of studies as much more challenging that the in-person ones. The reason why is that folks who decide to get their education online often do so in order to maintain an existing job or family. That translates to great time management and organization skills. Moreover, the U.S. Department of Education conducted 30 years of research and concluded that online programs meet the same learning outcomes as their traditional counterparts.
It is also important to note that programs for distant learning are often a lot cheaper than conventional ones. The fact that the student will not utilize any physical facilities of the school means that they can avoid a lot of fees. So, besides incredible accessibility and convenience, online degrees in journalism may also be much more affordable.
Related Resources: