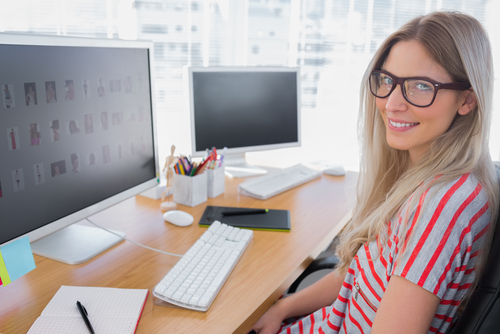 Working as a freelance graphic designer sounds like a dream to many. They picture themselves staying up late, working when they want to work and sitting back as clients come to them. It's nearly impossible for you to launch your business and make a comfortable living as a graphic designer without doing some work first. You need to promote your business so others stop and take notice of you. Learning how to be a freelance graphic designer begins with learning about all the technical facets of the job, but the process isn't complete until you learn about all the types of marketing available to you, as well as the options you have to grow your small business. Here are a few key ways you can promote yourself and your work to increase your annual earnings.
Create a Website
The easiest way to promote your graphic design skills is with a website that shows your skills. Graphic designers often need a portfolio of their past work that they show to potential clients. A website lets you create an online version of your portfolio. You can use designs you created in class, on your own time for fun, or work you did for former clients. Just make sure you have their permission to use that work or links to your work on the site. Your website should also include your contact information and make it easy for potential clients to get in touch with you about the work they need done.
There are many free website creators available on the internet, and hosting a website is often quite affordable with minimal costs for the domain name and the website hosting company you use. It's essential to make sure that your website doesn't look like it just hopped out of the 1990s. If you're not skilled with HTML and website coding, pay someone to make your website look great. If you're short on funds because you're at the start of your career, you may try one of the automated website builders, which can look suitably professional.
Target Local Companies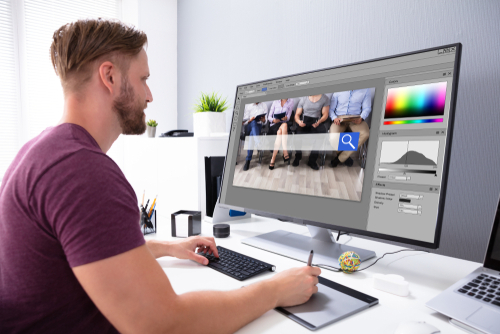 Did you know that you can promote your skills by targeting local companies? The next time that you find yourself searching for a local business, take some time to view the websites you come across. Make a list of what you would do differently and a few reasons why the site doesn't work as effectively as it should. You can then contact those companies online or through standard mail. Include a business card or your contact information and a link to your website. You never know when those companies might need help.
The United States Postal Service (USPS) offers a helpful tool for contacting local businesses that eliminates the need for you to fill out hundreds of letters and find addresses and contact information. Their Every Door Direct Mail (EDDM) program allows you to send a postcard, menu, or flyer to everyone in a particular zip code that meets your criteria. The USPS hosts a convenient online tool, which can help you set up your direct mail campaign and get it started with minimal effort on your part.
Connect With Other Designers
The more connections you have, the more work might come your way. Joining professional organizations and visiting forums and message boards are a great way to connect with other designers. Include a link to your site in your signature on each board, and use the sites as a way to chat about new software, get help with projects and offer advice to other designers. Joining professional organizations is an easy way to meet and greet with local business owners who need work done and form connections with other designers.
Sometimes, it's difficult to figure out how people "made it" in a certain industry. Professionals don't always want to share information about their success stories because they feel like it might impact their own ability to get work when there are too many people competing for the job. Graphic design is definitely a competitive industry, but you may still find it helpful to join a professional organization and network yourself.
Use the Web
As a freelance graphic designer, it's important that you use the web to your advantage. Genevieve DeGuzman recommends that you create a Facebook page and find a way to connect that page back to your personal or professional website, your business cards and any other promotional tools that you use. This shows potential clients that you are serious about the work that you do and that you have a strong presence online. Many designers also find it helpful to include images of their work on Facebook and to use Twitter and Instagram to showcase their work and reach potential clients.
Maintain a Regularly Updated Blog


Writing a blog on a regular basis is an ideal way to enhance your presence on the internet. Regular updates to your blog, and by extension your website, can make a positive impact on your search engine optimization efforts. When you choose to write a blog and update it regularly, you may increase the number of visitors who come to your website. Even if a visitor clicks on your blog first, they may end up clicking further into your website where you have your projects on display and more information about yourself and your work.

Part of the purpose and value of a blog is that it will help your website appear more frequently in search engine results. Further, a blog is an excellent area to explain, in great detail, what went into one of your projects. You can talk about your inspiration for a logo that you designed, or you can talk about your favorite graphic designers or your favorite visual media from famous companies.


Find a Graphic Design Niche


There are around 250,000 graphic designers working in the United States, according to the Occupational Outlook Handbook for graphic designers, which is published by the Bureau of Labor Statistics. If you want to be one of the more than 7,000 graphic designers that the BLS expects that employers will need over the next decade, it's important to enhance your value to your future clients.

One of the ways you can accomplish this is by adopting a niche in graphic design. When learning how to be a freelance graphic designer, you might consider focusing on logo design. Another area of emphasis that you can choose is advertising and marketing design projects. There are opportunities in editorial publishing for graphic designers, as well as jobs for graphic designers who design product packaging. Some graphic designers focus on the creation of new typefaces, and others design branding materials for their clients.


Target the Right Audience with Your Skills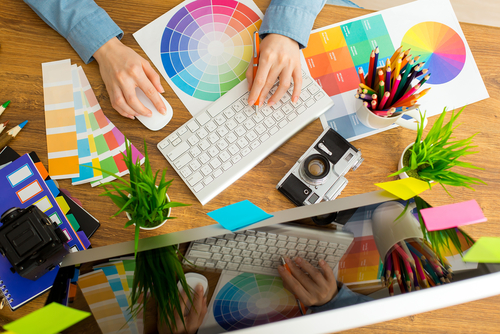 Your design niche is just one part of the equation when it comes to marketing your talents and getting new clients. One of the most important things you can do to find work and build your client base is in how you use marketing and advertising to your advantage, as well as how you use those methods to find clients. If you specialize in a particular style of graphic design, you might try to think about your projects from the client's point of view.

When you complete a project and deliver it to your client, where does that graphic eventually go on display? Is it a logo that a brick-and-mortar business uses on the sign in front of the establishment? Is it a theme for the products or services the company sells that is displayed on products? Is it an image or color scheme that is shown on the business's website? After identifying the types of establishments, businesses, or organizations that would normally use your services, you can find the best avenues for contacting them, whether it's through direct mail, cold calling, or walking right into their business.


Create a Physical Business Card


Much of the work you'll do as a graphic designer will occur on a computer, and you may have a digital business card, as well as a digital presence on websites like LinkedIn for marketing purposes. However, a physical business card can prove to be an asset when you're seeking local clients. Sometimes, one of the best options for gaining clients is by visiting local businesses and offering your services.

When you have a physical business card, you can offer your card to the business owner when you meet them, as well as leave the card in a conspicuous place at the business, so the owner may see your card when he or she returns. Your business card is also an excellent place to display your graphic design talents in a compact manner.


Set Up All Social Media Accounts


Large companies often have a team of people working on their social media accounts because there are so many ways that you can communicate with customers in the digital era. Websites like Twitter, YouTube, and Facebook are essential, but many companies and individuals also have accounts with Instagram, LinkedIn, Pinterest, WhatsApp, Tumblr, and TikTok. New social media websites seem to crop up every few years, and it's a good idea to jump on the bandwagon early to maximize your benefit in using those websites to communicate with future clients.

As a graphic designer, you have the ability to leverage each of these social media sites to your advantage. Social media sharing sites like Instagram and TikTok that focus on showcasing digital media are an ideal outlet for graphic designers. When studying how to be a freelance graphic designer, it may prove beneficial to set up these social media accounts before you graduate and complete your portfolio. Get the ball rolling on your social media presence before it becomes an essential part of your marketing efforts.


Use a Search Engine Optimization (SEO) Company


The "do it yourself' model of marketing is a great way to save money while building your graphic design business, but you may find it helpful to hire some professionals for certain tasks. Search engine optimization is one of those tasks where a professional SEO strategist can take your existing website and make sure that it has all the features necessary for your success.

Some of the tasks your SEO company can perform include making your website look good on different interfaces like mobile phones and desktop computers, optimizing the speed of your website, so it loads quickly, and making sure you're sharing enough information with your website visitors. If you're a wonderful graphic designer but you don't have world-class writing skills, an SEO expert may be able to enhance your website's content.


Write an Informational eBook for Free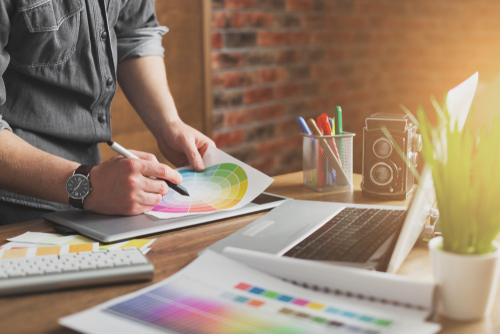 You've probably seen advertisements that offer free eBooks on a variety of subjects, and you might be able to get the word out best about your graphic design skills with an eBook. Not only can you showcase your work in the eBook, but you can pass on some legitimately valuable information to your readers, who may decide to work with you on a project.

Some of the topics you can write about include general information about graphic design, specific information about your personal niche in graphic design, and advice for business owners who are interested in hiring a graphic designer. Your future customers may appreciate the offer of free information from an eBook, and they may also use the information you share to help them decide whether you hire you or contact you about a project.


Request Referrals & Recommendations


It's always helpful when a past customer offers to give you a recommendation or sends a new customer your way, but you can also help the process along by making actual requests for recommendations. If you have your own website – and you should – you can include a page or section that showcases quotes from your clients. You can pair those quotes with the graphics you created or the projects you worked on for those clients.

After each project is complete, you can also ask your clients to let other business owners or friends know about your services. Marketing and advertising take money, but a verbal or written endorsement from a past customer costs absolutely nothing, and your customers will probably be happy to pass on information about your work when they know someone who needs graphic design work.
Conclusion
Some freelance artists and designers make more money working from home than they would working for an employer, but others have a hard time promoting themselves to others. As a freelance graphic designer, you need to show clients the type of work you can do for them, which you can accomplish through your own website and forming connections with other designers.
One of the best lessons you can accomplish while learning how to be a freelance graphic designer is the building of your own small business. All it takes is a single client to begin your journey as an independent business owner, and it's essential that you use that initial contact to boost your chances of getting more work.
Related Resources: