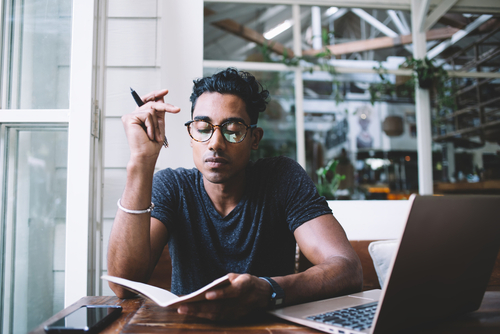 While it is true that many journalists do not have a master's degree in journalism, those who attain that degree have more job opportunities available to them. These range from working on an online or print news outlet to getting involved with broadcasting. Additional avenues also include working in public relations, as well a possible future working inside the political arena.
Executive Editor
The executive editor is the individual at the top of the editorial food chain. This person oversees all other editors within an organization and deals with both content and business aspects. Executive editors write articles, work extensively with all departments when it comes to the logistics of a budget, and also often present themselves as the "face" of an organization.
Broadcasting
Having a master's degree in journalism is a solid step towards entering the world of broadcasting. Broadcasting involves much more than simply sitting in front of a teleprompter and reciting the words scrolling across the screen. It is also such diverse areas as developing and adhering to budgetary requirements, as well as managing individual personalities within the broadcasting microcosm.
Digital Journalism
Although print journalism is not dead, most journalists understand that digital journalism is the new norm. As an article in Forbes recently pointed out, however, it is difficult to find a way to truly make digital journalism financially sustainable. Those who meet the challenge will find themselves at the forefront of an entire new era of journalism.
Public Service
With the skills brought forward by having a master's degree in journalism, some people set their sights on working in the public service arena. For example, it was the journalists working for The New York Times that showed Coca-Cola was funding research by the Global Energy Balance Network, which was later shown to be downplaying obesity risks. When the connection was brought to light, the group shut down its efforts.
Political Campaigns
Political campaigns use those with backgrounds in journalism as part of their staffing strategy. Part of a successful political campaign is bringing people and organizations around to supporting a candidate. Other ways in which journalists and political campaigns interact is when a correspondent is assigned to following either a candidate or several candidates in various races for public office.
Public Relations
Journalism deals with the reporting of news and the field of public relations finds ways to take that news and link it to an individual or an organization. As public relations becomes ever more important to businesses and branding opportunities, journalists are finding opportunities working for public relations firms, especially when it comes to following a news story, according to an article in Forbes Magazine.
Professional Authors
The skills that students obtaining a master's degree in journalism possess are useful when it comes to doing research and disseminating information. With the explosion of digital e-books and e-zines in the marketplace, journalists have more opportunities than ever to become authors. In addition, journalists can build up a strong following through professional blogs and online videos.
While journalism had undergone some drastic changes due to the explosion of the internet and online information services, there are more opportunities than ever before to take a master's degree in journalism and branch off into multiple directions, ranging from public service to political campaigns to broadcasting.
Related Resources: