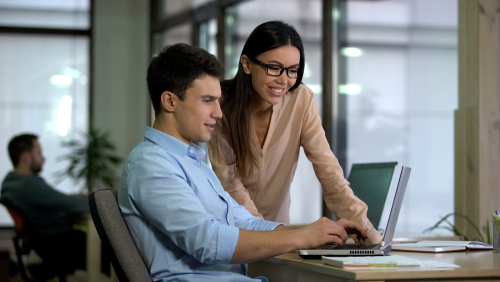 A person interested in business, finance or journalism may wonder, "What is a business journalist?" This type of media writer or editor would engage in reporting, investigation and analysis of businesses, which might include small businesses, international businesses, large corporations and related entities and activities. Knowing what this profession entails could help a person select a college major or an area of specialty within their major.
What a Business Journalist Does
A business journalist reports news about businesses, their leaders, projects and activities. They may also investigate business practices, ethics or leaders. They may spend time interviewing business leaders, entrepreneurs, regulators, directors and related people. These journalists also write stories or articles for publication in print. They may write scripts for live newscasts or recorded shows.
Where a Business Journalist Could Work
Most business journalists work in the media. This includes the large conglomerates that own most public television stations and radio stations. They may also work at newspaper, magazine or online publishing companies. Some business journalists may work for privately-owned broadcasting companies, such as cable news. About one-quarter of journalists are self-employed. This includes business journalists who may work as independent correspondents or authors of books or in-depth articles about business, business leaders and related topics. Some business journalists work in education, such as teaching journalism in high school, community college or college settings on a part-time basis.
How to Become a Business Journalist
According to the Bureau of Labor Statistics, a person who wants to work as a business journalist will need a bachelor's degree in media or communications. They may also need several classes in business, economics, finance or government relations in order to specialize in business journalism. A person who wants to be a business journalist could also earn a degree in political science or English. Some experience is also ideal for getting a job within this specialty of journalism. For example, a person might get an internship in social media or communications at a large company, or they might start writing guest columns for a community paper. Editing a school or university paper or interning for a political office holder could also pave the way for getting a job in business journalism.
Job Outlook for Business Journalists
The job outlook for all specialties of reporters and correspondents is expected to decline by 12 percent between May 2018 and May 2028. The number of jobs in broadcast news analysis is expected to remain about the same for the same time period. The decline is due to lower advertising and the fact that people are turning to online news sources instead of reading printed magazines or newspapers. People are also reading their news online in lieu of listening to news on the radio or watching a public television or cable news television broadcast about what is going on in the world of business.
Conclusion
Business journalists provide important information about companies and economic activities to laypeople, the public, other business professionals and investors. They perform an important role in the sharing of information, allowing people to make informed decisions about which companies to do business with, invest in or work for. Knowing the answer to, "What is a business journalist?" could help a person decide on their future career path.
Related Resources: