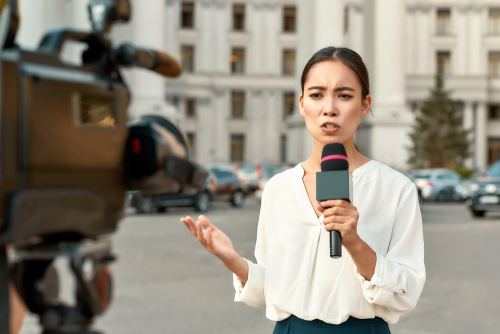 There are many types of journalists, and many people considering this career wonder, "What is a typical day for a journalist?" A typical day depends on the type of journalism, such as broadcast journalism or sports journalism. Knowing some of the typical daily activities of a journalist could help a person choose an area of specialty or determine if this is the right career for their personal strengths and preferences.
Research Information
Journalists research information through a variety of sources. They might go to libraries or research topics online. They may seek out information from diverse places, including historical societies, scientific journals and other sources. A journalist might do this in order to provide some background information about a news story or to follow up on a lead provided by their supervisor or a member of the public. They analyze and interpret the information so that it can presented in a way that their audience will understand.
Interview the Public and Topic Experts
In a typical day at work, a journalist may interview members of the public. They may do this in order to gauge the reaction about an event or a new governmental policy. Journalists also seek out information from topic experts. For example, if there is an outbreak of hepatitis A in the community, a journalist may speak with an infectious disease physician or the director of the local health department in order to get specific information about the number of cases, how the illness is spread and what its symptoms are. The journalist would use quotes or interview clips in order to share the important information with the public.
Investigate News and Pitch Ideas
Journalists may formulate their own ideas about what to write or speak about in their work. For example, an outbreak of hepatitis A might lead to the journalist investigating the local rules and regulations for food service workers who are diagnosed with a transmissible disease. This could also lead to investigations about what employers must do for employees who are not allowed to work while ill. It could also lead to further investigations about the responsibility of restaurants in protecting the public's health. A journalist may do this in order to pitch new story ideas or to follow up on past presentations.
Write Articles and Review Them for Accuracy
According to the Bureau of Labor Statistics, another activity in a typical day of a journalist involves writing articles. They may write articles for publication in print or in a digital environment. Many broadcast journalists write their own story scripts. The stories may also be written in a way that they can be posted to the media outlet's website. Journalists are also responsible for reviewing their work for accuracy. They may work with an editor or news director in order to ensure that proper grammar and punctuation are used.
Conclusion
The day of a journalist can quickly change, especially when there is a major news story or event that requires other work to be sidelined. Journalists need to be flexible, prepared and able to communicate well in difficult situations. Knowing about what is a typical day for a journalist makes it easier for a person to decide whether or not this would be a good career fit for their personality.
Related Resources: