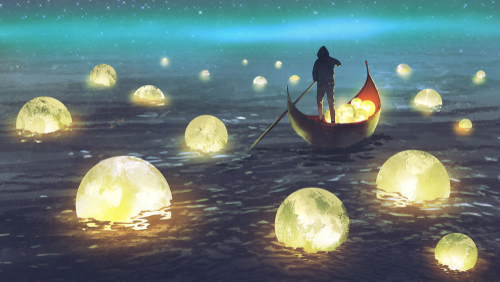 How exactly does one create a digital painting? What are some of the programs and basic concepts behind producing this relatively new yet excitingly expressive art form? Here are some answers to these kinds of commonly asked questions and more.
Digital Art: The Basics
In times past, art was limited to physical forms we're all familiar with: clay, paint, paper, and other physical embodiments. "Art is an expression of feeling through a medium." Today, this scope has changed, as digital art is now a reality and an additional member of the art family. In this form, art is made by use of the mouse, keyboard, and other electronic components rather than the traditional mediums.
Acquire Program
In the case of our interests here, we're concerned specifically with digital painting, and in order to get started doing it, one first must acquire a program meant for the intended activity. There are a number of these out there, each with its own layout and function styles. The most popular perhaps are Adobe's Photoshop and Studio Pro by ArtRage. Other common names here include Autodesk Sketchbook, Corel Painter, and ZBrush among others.
Apply Your Technique
Once you have acquired and setup the software you'll be using, the rest comes down to your intended purpose and the subsequent application of your hand in attaining that goal. Are you painting for commercial or business purposes, or are you strictly composing this piece for personal or aesthetic value? While we can't quite help you choose between intents and purposes, we can go on to highlight some of the basic concepts used in creating this art. This will give you a good, initial idea of how to get started in applying your own technique.
Brush and Erase Tools
At the cornerstone and core of the digital painting project are the essentials: the brush and erase tools. These tools will provide the most commonly used applications of adding or removing colors, materials, lines, and all else. They may go by different names or look slightly different from one program to the next, but these two staples form the basics of all digital paint projects.
Color Mixing
The color mixing tool is the next essential you will need to understand in order to get started painting on your own. This often comes in a palette and can get quite extensive in some programs. In all cases, though, this tool will provide you with a way in which to mix and match different colors. The more colors offered in the program's repertoire, the more options you have to work with here.
Layers
Finally, get to know layers in order to paint like a pro. Layers are the virtual levels of your painting canvas. Each layer can contain certain elements of the overall painting and thus can be manipulated individually, changing a given aspect of the overall product. All software will give you access to this environment, and it's then up to you how you use it.
Digital art, although fairly new, is a rapidly growing art form. This is true in the professional world as it is in the private realm. No matter on which side you find yourself painting, these are the basics of digital painting that will quickly get you on the way to creating your very own digital masterpieces.
Related Resources: